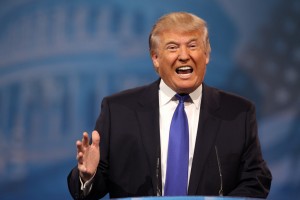 The May FEC campaign finance numbers are out, and they are not good for Donald Trump.
The Trump campaign began May with $2.41 million in cash on hand, and they went into June with only $1.29 million on hand.
The Hillary Clinton campaign, meanwhile, started May with $30.16 million in cash on hand. They went into June with $42.46 million in cash on hand.
The Trump campaign raised a little over 3 million last month. The Clinton campaign raised, well, millions and millions more than that.
Oh, and during that month-long period, Trump loaned his own campaign $2.2 million.
If you're looking for some perspective here…:
For those wondering "what does $1.3 million in the bank mean?"
Answer: it's the equivalent of a House member w/ a semi-competitive seat.

— Phil Mattingly (@Phil_Mattingly) June 21, 2016
Hillary Clinton raised $1.4 million more than this. Tonight. https://t.co/LK6oDmTF6A

— Gabriel Debenedetti (@gdebenedetti) June 21, 2016
Presidential campaigns with more cash on hand than Trump on May 31:

Ben Carson ($1.7M)
Ted Cruz ($6.8M)
Bernie Sanders ($9.2M)

— Derek Willis (@derekwillis) June 21, 2016
Trump has less cash-on-hand https://t.co/YhvCyXJnhm than the average apartment price in Manhattan https://t.co/kn1lsGk7Us

— (((Harry Enten))) (@ForecasterEnten) June 21, 2016
Now, Trump proudly declared throughout the primary process that he was self-funding his campaign (even if he kinda wasn't), but he indicated last month (during the above low cash flow) that he won't be completely self-funding.
Now, did the Trump campaign anticipate a problem here when the numbers came out? Well, it's not like they just fired anyone who might have been responsible for managing the campaign…
[image via Shutterstock]
— —
Follow Josh Feldman on Twitter: @feldmaniac
Have a tip we should know? tips@mediaite.com
Josh Feldman - Senior Editor