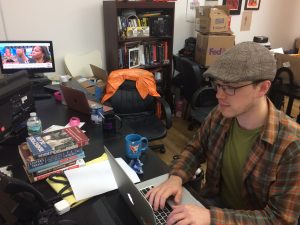 Today is my last day at Mediaite.
I had thought to devote this space to publishing one last angry rant — one final jeremiad against all that is feckless and craven about the political media, cataloguing all the ways it has disappointed me and failed in its mission to inform the American public. But given the unsparing nastiness of this election and the rancorous spirit of our current national moment, perhaps a bitchy valediction isn't the best way to go out.
No, what I'd like to do with my last Mediaite column is give thanks. Thanks for the chance to cover this historically weird election cycle, for the chance to engage with some of the most interesting, dynamic figures who populate the political scene, and thanks to the people who made it worthwhile.
Thanks, first and foremost, to the Founder, Dan Abrams, who took a chance on me, gave me an opportunity and a platform, for which I will always be grateful. Thanks to our indomitable managing editor Jon Nicosia, whose superpowers apparently include never sleeping, who steered the good ship Mediaite through this crank carnival of an election with an unlimited supply of patience, counsel, and good spirit. Thanks to our senior editor Rachel Stockman, whose insights and pointed questions improved my pieces and sharpened my arguments countless times. Thanks to our editorial producer, J.D. Durkin, whose tenacity, tireless verve, and ambition to broaden the scope of the site was an inspiration.
Special thanks and apologies must go to my co-desk inhabitant and comrade in arms Lindsey Ellefson, who has endured many a profanity-laden tirade from me, who is never short a smile or unable to proffer a silver lining, whose zeal and determination is a constant reminder that she will go far and I will one day tell anyone who will listen, "I knew her when."
Thanks to my extraordinary team of colleagues, including Dana Eisenberg, who reminded us that there is life outside the election; the genial Ken Meyer, who is the sweetest fellow you could ever hope to work with; the thoughtful Joe DePaolo, whose wit and prowess with prose made me care more about sports than I ever would have thought; the erudite Justin Baragona, to whom I bestow the mantle of Mediaite's resident cranky leftist; the indefatigable Josh Feldman, who has published 15 posts in the time it's taken me to write this one; the incorruptible Alex Griswold, who has kept me on my toes; those that have left, like Joe Concha and Tommy Christopher, who were inspirations when I was getting started here; the sagacious LawNewz editor Ronn Blitzer, who has made me a better debater; and the preposterously multitalented photographer and filmmaker Anthony Velez, who brought Mediaite, with great speed and style, into the video age.
Some modicum of thanks must go to the commenters, who never fail to excavate astonishing new lows, but also pointed out mistakes, engaged me in constructive conversation, and even doled out the occasional, and vanishingly rare, compliment.
Beyond the day-in-day-out exercise of covering the goings-on at the major news networks, I am thankful that Mediaite gave me the latitude and freedom to undertake my own projects.
Specifically, I'm thankful for my editors indulging my desire to tackle assignments both frivolous, like Game of Thrones recaps and conversations with dumb teenage bots, and decidedly consequential, like the Religious Right's various crusades to shape policy or the ongoing Republican effort to suppress the vote. I'm thankful I could take the time to pursue a long inquiry into the evangelicals discontented with Trump. I'm thankful for the opportunity to champion good and interesting films, while savaging crappy, contemptible ones; to shine a spotlight on valuable, but underseen, reporting, while roasting cynical agitprop posing as reporting. I'm thankful to the Chapo Trap House, those incorrigible emissaries of the dirtbag left, who consented to a profile in their early days and evolved into the single most essential listen of our dawning Era of Trump.
I'm even thankful that I got to observe Trump's campaign on an almost daily basis, and was present in the room when he clinched his once-unthinkable victory, because I feel that I have a more sober and unobscured understanding of what we can expect from him. And of course I'm thankful I had ample occasion to call out the hypocrites, frauds, bullies, cretins, toadies, whiners, dolts, dopes, and flat-out liars who populate the airwaves. I guess a little angry rant snuck in here.
But about that angry rant. It is tempting and facile to lump every network, every newspaper, every blog and blue-check Twitter account into the same shameful, contemptible omni-blob: "The Media." As if every employee of every outlet were members of the same homogenous monolith, a single totem, both dreaded and exalted, reviled and overpraised, to whom simultaneously too little and too much credit is given.
I have been lucky enough to pass the last ten months working at Mediaite, where we try to champion the good work while calling out the bad, and I hope I can offer some perspective, trite as it may be. If I've grown disaffected with the "Media" as such (and I have), my respect has only increased for the army of individuals who constitute it, the reporters, anchors, producers, and editors, who comprise the messy, contradicting tangle of interests, locked in heated battle for hearts, minds, viewers, readers, and scoops.
Rag on the "Media," but acknowledge the human beings that march under its perpetually embattled flag. Some, I assume, are good people.
So, finally, I'm thankful to them.
Sam Reisman (@thericeman) was a staff editor at Mediaite.
Have a tip we should know? tips@mediaite.com