Someone Is Making A Documentary About Jimmy McMillan That's Just Called DAMN!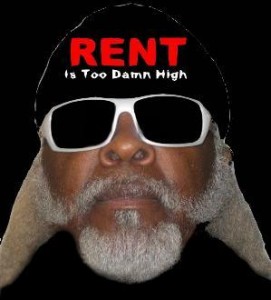 Ever since Election Day, our world has been a little too quiet. A little too… muttonchop-free. That's because Jimmy McMillan, the charismatic founder of the "The Rent Is Too Damn High" party, has been largely absent from the media scene for almost a month now—we've barely heard anything about him since news of his imminent album broke. That's why we breathed a sigh of relief when we heard this great piece of news: a documentary crew has shot a nonfiction film about McMillan that will premiere next March at the South by Southwest music and film festival. Oh, and the best part? The movie's title: DAMN!
NBC New York writes that filmmakers Aaron Fisher-Cohen and Kristian Almgren are behind the movie. Though Fischer-Cohen knows his subject may have reached a saturation point after being lampooned on Saturday Night Live and starring in a popular Funny or Die video—"I don't expect Jimmy McMillan to be very popular upon the release"—that fact doesn't worry him too much. "I don't think that will hinder our story, or who he is as a person, which is what will make this film great," he told Movieline.
The trailer for the film—an unbroken shot of McMillan giving a rambling monologue in profile as he sits in a parked car—is below. At the end of the clip, when McMillan delivers his catchphrase, we dare you not to feel a thrill up your leg. But in all seriousness, this looks like it'll be a seriously entertaining doc; we can only hope it gets wide release.
[h/t NBC New York]
Have a tip we should know? tips@mediaite.com