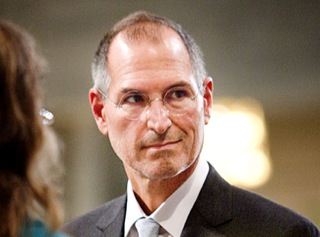 It was only a matter of time. With publisher Simon & Schuster moving up the publication date of Walter Isaacson's Steve Jobs biography by a month in light of his passing this week, Sony has acquired the film rights to the book, it was reported yesterday evening.
The news first broke on Deadline and later reported by Reuters and hinted at before confirmation by Variety. According to Mike Fleming at Deadline:
I've just learned that Sony Pictures is making a hefty deal to acquire feature rights to Steve Jobs, the upcoming authorized biography by former CNN chairman and Time Magazine managing editor Walter Isaacson. I'm hearing the deal is $1 million against $3 million and that Mark Gordon will be the biopic's producer. But this will be an MG360 project, which is the movie production partnership between Gordon and Management 360. ICM reps both Isaacson and Gordon. Sony Pictures would not comment.
RELATED: Stephen Colbert Fondly Recalls Getting Free Apple Products In Tribute To Steve Jobs
Fleming notes that it seems like a natural fit for the story, as Sony produced the Academy Award-winning The Social Network. As the rights appear to have been acquired merely hours ago, there are no further developments, but Deadline also notes this interesting factoid: Jobs has been profiled in film before, played by ER actor Noah Wyle:
At the time of Jobs' death, only one movie had ever chronicled his rise to tech titan: Pirates Of Silicon Valley, a semi-humorous docudrama about the two visionaries behind Microsoft and Apple based on the book Fire In The Valley: The Making of The Personal Computer by Paul Freiberger & Michael Swaine. Shown on TNT in 1999, the telefilm starred Anthony Michael Hall as Bill Gates and Noah Wyle as Jobs.
RELATED: Rush Limbaugh Gives A Surprisingly Touching And Heartfelt Remembrance Of Steve Jobs
Have a tip we should know? tips@mediaite.com