'Sounds Like They Are Phonying Up Investigations': Report Alleges DEA Directed To 'Conceal' Probes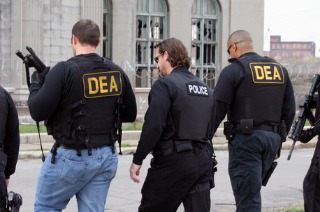 According to a report in Reuters on Monday, the U.S. Drug Enforcement Administration's agents have allegedly been concealing where investigations truly began. According to a review of DEA documents by Reuters reporters, the agency has been obscuring the facts of their investigations "not only from defense lawyers but also sometimes from prosecutors and judges." The result has been the frustration of American criminal defendants' cases, a potentially unconstitutional abuse which prevents defendants from being able to fully review the evidence submitted against them.

The undated documents show that federal agents are trained to "recreate" the investigative trail to effectively cover up where the information originated, a practice that some experts say violates a defendant's Constitutional right to a fair trial. If defendants don't know how an investigation began, they cannot know to ask to review potential sources of exculpatory evidence – information that could reveal entrapment, mistakes or biased witnesses.
"I have never heard of anything like this at all," Harvard Law School professor Nancy Gertner told Reuters. "It is one thing to create special rules for national security. Ordinary crime is entirely different. It sounds like they are phonying up investigations."
RELATED: Wallace Destroys Jack Lew Over IRS Scandal: 'Where's The Investigation? The Questions Haven't Been Asked'
The Special Operations Division of the DEA, created in 1994 to combat Latin American drug cartels, distributes the often classified information obtained by Reuters.
"After an arrest was made, agents then pretended that their investigation began with the traffic stop, not with the SOD tip, the former agent said," the report reads. "The training document reviewed by Reuters refers to this process as 'parallel construction.'"
A dozen current or former federal agents interviewed by Reuters confirmed they had used parallel construction during their careers. Most defended the practice; some said they understood why those outside law enforcement might be concerned.
Read the full report below via Reuters
> >Follow Noah Rothman (@NoahCRothman) on Twitter
Have a tip we should know? tips@mediaite.com