GOP Governors Warn Republicans Against Government Shutdown: 'How Much Blood' Is Obamacare Worth?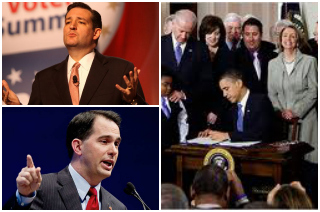 With a faction of Republican Senators like Ted Cruz and Mike Lee threatening to shut down the government over the funding of Obamacare, many moderate and even a few conservative GOP members are cautioning them against this strategy—a group that now includes GOP governors.
"Many of the members of this party do not want to fund Obamacare, but what we have to do as governors who work with our legislators is realize the reality of being able to get something passed," said Phil Bryant, Governor of Mississippi, adding that faced with the inability to fully repeal the law, Republicans have to ask, "How much blood are we going to leave on the floor over this?"
Even normally pugnacious Republican figures like Scott Walker are distancing themselves from the shutdown threat. "I have made the case that Obamacare is not good for the economy, but I have some real concerns about potentially doing something that would have a negative impact on the economy just for the short term," the Wisconsin Governor said. "I think there are other ways to pursue this."
RELATED: Wallace Grills DeMint Over Shutdown Threat: 'Don't Take A Hostage Unless You're Prepared To Shoot Them'
The governors also advised that the party that precipitates the shutdown usually takes the blame for the fallout.
"I've never felt that shutting down government function is a wise thing to do politically because I think, whoever is involved in it, it's the Congress, regardless of what party they're affiliated with, that will be blamed by the public," said Jack Dalrymple, Governor of North Dakota. "And so, to me, I don't see what it accomplishes."
Conservatives like Tom Coburn have already spoken out against the shutdown threat, and gotten called part of the "surrender caucus" for doing so.
Read the full article HERE.
[h/t NY Times]
—
>> Follow Evan McMurry (@evanmcmurry) on Twitter
Have a tip we should know? tips@mediaite.com