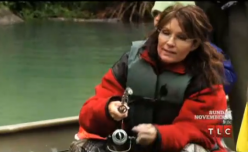 While we while away the hours waiting to see how well Sarah Palin's Mama Grizzlies do in today's Midterm elections, why not explore what actual mama grizzlies do. That is the sort of information available to readers of the newly launched website for the upcoming Discovery show Sarah Palin's Alaska. Welcome to SPALASKA!
The site, run by Discovery Communications, boasts a number of blogs including a media blog (currently featuring a post on Jon Stewart's Rally) and a politics blog, which promises not to take sides. No really:
Sarah Palin's Alaska is lots of things… but it is not a political show. So, why have a blog dedicated to engaging in a discussion about politics, and how they relate to the show? Lots of reasons, but let's focus on four. First… why not? No matter how many times we make the argument that the show is not about politics, or created in the name of politics, there is going to be a political discussion about Sarah Palin's Alaska.
Indeed. Also, mama grizzlies, an instruction manual!
Hey, speaking of transitions, when they saw the bears the Palins were doing some fishing themselves. For any aspiring filmmakers out there, here are some thing to watch out for when filming near bears.

* Make sure nobody gets hurt by the bear
* Make sure the bear can't get to any of the equipment.
* Note: dependent on the person and the equipment, you might be able to reverse those first two.
* Make sure one crewmember is always keeping a close eye on the picnic basket.
* Don't startle the bears, as they might lead to an attack.
Judging solely from this website SPALASKA seems like a nice place to visit.
Have a tip we should know? tips@mediaite.com