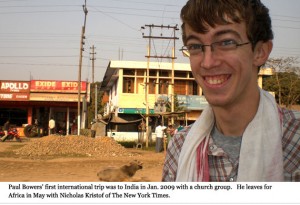 Today, the Huffington Post welcomed the newest member of their family, HuffPo College. It's not quite as cute as the Kardashian kid. But lovable nonetheless.
Lead by Jose Antonio Vargas and Leah Finnigan, HuffPo College pulls its content from 62 student publications around the country and cross-posts from other articles on the site. They're also working to build an army of citizen journalists to cover on-campus issues. If you'd like to join, go here.
Like the rest of the HuffPo, it's an aggregator sprinkled with original content. A bit obvious, but it serves the section well; drawing from student papers offers an almost-exclusive peek into our nation's universities, informing us, for example, that UC Berkley has a Quidditch league.
But it also provides a stellar overview of journalism's rising stars. One of their featured bloggers is Paul Bowers, a student at the University of South Carolina. As a Sophomore, Bowers won Nikolas Kristof's Win-a-Trip contest, traipsing through Sub-Saharan Africa and documenting the whole thing with text, images and video.
Now, Bowers will take to the streets of Columbia, South Carolina. For the week of March 7, he and his roommate will relinquish their apartment "to document the homeless experience in our city firsthand" You can follow their story  in real-time on Homelessincolumbia.com and, I'm presuming, some sort of summary on the HuffPo. Some may think he's nothing more than an arrogant college kid, but his work already demonstrates poignant, reflective commentary that has the potential to create powerful social change.
Plus, the first night on the streets, they were offered cocaine and held at gunpoint. Coincidence his name sounds like Jack Bauer? I think not.
So good for you, HuffPo College for giving these kids the exposure they need to leap into journalism after graduation. Now, if we could only resolve the matter of pay…
Have a tip we should know? tips@mediaite.com