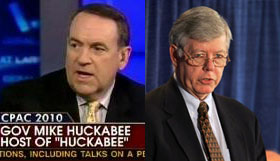 The organizers of CPAC have heard Mike Huckabee's sour-grapes complaints about the convention's increasingly libertarian direction (presumably a jab at the fact that he lost the 2012 presidential straw poll to Congressman Ron Paul). The result, it would seem, is that they are, more than anything, confused.
Huckabee had criticized CPAC for giving conservatives less of a say than libertarians and making it more difficult for grassroots organizations to participate due to an alleged pay-to-play policy that required the groups be well-funded. David Keene, the chairman of the American Conservative Union (which organizes CPAC), replied to Huckabee both via CNN and his own letter trying to clarify what he believed may have been Huckabee's misunderstanding. Regarding the pay-to-play claim and the obstruction of conservative opinions, Keene noted that "many of those invited are from groups that are neither co-sponsors nor financial supporters of the conference itself." Among the list of groups attending and providing speakers were some that Huckabee may recognize, like "Fox" and the "Tea Party Patriots," among many others– a key point given that Huckabee cited as a reason for not attending this year the lack of a Tea Party presence at CPAC. On a more personal level, Keene seemed to have been caught off-guard by criticism from someone he considered a solid ally. "We were frankly a [little] perplexed by Governor Huckabee's comments about CPAC given our long and cordial relationship with him and his family," Keene told CNN, noting that Huckabee's daughter Sarah attended CPAC this year, "I can only assume that the Governor has been misinformed as to how CPAC operates."
Given Keene's relatively personal response, it sounds like he may have preferred to hear the grievances privately. The note is conciliatory and hurt, and while CPAC may be playing the victim here, Huckabee's move does seem like a sucker punch when the conservatives (and his daughter) weren't looking.
Have a tip we should know? tips@mediaite.com