St. Louis Post-Dispatch Reports: Michael Brown Did Not Face Serious Felony Charges at Time of Death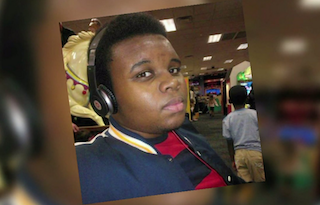 Last month, both the St. Louis Post-Dispatch and conservative blogger Charles C. Johnson filed separate petitions with the St. Louis County Family Court requesting that any juvenile records on Michael Brown, the unarmed teenager shot and killed by a police officer in Ferguson, be opened. Today, according to the paper, a court official revealed that Brown "was never found delinquent of the juvenile equivalents of Missouri's most serious felony charges, and was not facing any at the time he died."
The impetus to look into potential felony charges or convictions in Brown's past stemmed from Johnson, who previously reported that the teenager was arrested for an incident involving second degree murder before he was killed last month:
Confirmed earlier report that #MichaelBrown had juvenile arrest record involving second degree murder… Working on getting report #Ferguson

— Charles C. Johnson (@ChuckCJohnson) August 18, 2014
Following the court records release Wednesday, Johnson has continued to insist that his original information, which he says came from two St. Louis law enforcement officials, is correct. He demanded a correction from Post-Dispatch reporter Jeremy Kohler, who filed the story.
This headline is false. That's not what was said in court today, @jeremykohler. You need a correction. #MichaelBrown pic.twitter.com/XcLe5nduOZ

— Charles C. Johnson (@ChuckCJohnson) September 3, 2014
St. Louis Post Dispatch reporter @jeremykohler must have been in a different courtroom than all of us. #MichaelBrown

— Charles C. Johnson (@ChuckCJohnson) September 3, 2014
Johnson continued to argue that Brown could have been involved in the alleged second degree murder without being convicted or even charged. And while he is correct that the judge in the case has not yet decided whether to release any closed records to the public, Cynthia Harcourt, a lawyer present at today's hearing, revealed that had Brown been charged or convicted of a "serious felony," those records would be available to the public.
Kohler elaborated:
After the hearing, the Post-Dispatch sought out Harcourt to clarify her statement. She told the Post-Dispatch that Brown was not facing any Class A or B charges when he died, either.

Class A felonies include second-degree murder and first-degree robbery; the penalties in adult court range from 10 years in prison to death. Class B felonies include voluntary manslaughter, second-degree robbery and first-degree burglary, with a maximum penalty of five to 15 years.

It is not known whether Brown had ever been accused of lesser offenses. Class C felonies, for example, which include involuntary manslaughter and second-degree assault, would become open only if there were two previous adjudications for class A, B or C felonies. That was not the case with Brown.
A lawyer for Michael Brown's family did not speak during the hearing, but afterwards said there was only one reason why either the St. Louis paper or Johnson would want the records opened: "The character assassination of Mike Brown."
[Photo via screengrab]
— —
>> Follow Matt Wilstein (@TheMattWilstein) on Twitter
Have a tip we should know? tips@mediaite.com