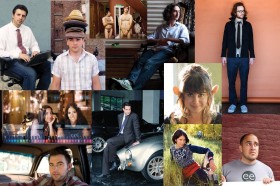 So much nachas! This year's Heeb 100 just came out and it's a great list of some of the best and brightest up-and-coming Yids across art fashion, books, media, comedy, film, tv, activism, entrepreneurship and calling their mothers. We're biased, because we know a few of them well (some very well!). Still, it's a pretty impressive list as the Heeb 100 always is (cough, cough).
Here are a few notables in media and the like. Bias declared, btw.
Ezra Klein: The only question about this pick is, he's not already on the list? This young Heeb blogger has hit his stride of late, becoming an especially dominant voice in covering the health care debate over at WaPo. And he's killing on the Power Grid.
Brook Lundy: Brook Lundy is hilarious. You have ALL snickered at a someecard, and will no doubt continue to send and receive them for thier pith and vinegar. Even if you can't pronounce the name. Oh, who are we to talk, right? As a matter of fact, I used the stickiness of that name as a justification for "Mediaite" back in the day — see Brook's take on that here.
Lisa Anne Auerbach: Wearable media! Lisa's message-sweaters are cozy AND let the world know what your issue is. Multi-tasking! I like her "Keep Abortion Legal" sweater. For it's subtlety.
Ray Wert: Our fave car tutor also easily makes this list, not only by virtue of his killer traffic (ha! Get it? Cars? Traffic?) but also, he's a Jew who writes about cars. Hello? (Update: Wow there's another one: Car and Driver, editor Eddie Alterman. Breaking stereotypes left and right!)
Michael Galpert: Galpert may be one of the nicest guys on the new media tech scene, which somehow matches his ever-present newsboy cap (like he's always saying, "Top o' the day to you, guv'nor!"). He founded Aviary, an online image/vid editing site that he assured me will revolutionize how I work (confession: The montage you see here was made with Paint. Shh).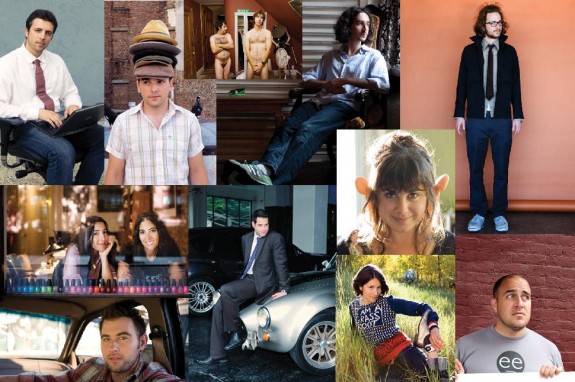 Alex Olch: Olch is in the fashion section (for his fancy-schmancy ties, not to mention his fancy-schmancy guest-blogging on the NYT's The Moment) but he could also be in the film section for his The Windmill Movie, a critically-acclaimed and painstakingly made documentary about a documentarian, starring Gossip Girl's Wallace Shawn. Ha, that was fun to write.
Mara Altman: This fomer Village Voice junior columnist and frequent Gawker punching bag seems to be, er, coming along just fine. Ha, ha. Her book Thanks For Coming sounds pretty gutsy. And after this maybe she won't need to write a sequel — so many Jewish mothers with sons who would be perfect for her!
Josh Zepps: Who is Josh Zepps? I predict that most people will know the answer to that question pretty soon. Look at that punim! Also, how does he only have 714 Twitter followers? Well, it's 715 now, baby. Josh! TwitPic often!
Dr. Deborah Berebichez: A doctah! A sexy doctah! Who is a risk analyst on Wall Street! If she went on JDate, I'm pretty sure it would implode.
Nina and Julia Werman: Should I be admitting how I know them? From, er, shopping at their salon! Yeah, that's it. Shopping distracts from the pain. Proud to see my LES neighbors so honored!
Amy Phillips: News editor of Pitchfork Media, and someone you clearly want a mixed CD from. With Klezmer. Indie rock klezmer. It's out there, right? Because that sounds awesome.
Starlee Kine: She should be on this list just because of her name, but as it happens she's on it for another great title: A self-help book entitled "It IS Your Fault." Awesome. Also she found a way to make money off of Post-Its, which is frankly better than the guy who invented them for 3M did (damn you, work for hire!).
Sam Lessin: Sam Lessin created awesome file-sharing site drop.io. Total innovator. Spot on the Entrepreneur list is well-deserved. Also, his pic makes him look so THINKY!
Dan Rollman: Completely, utterly different kind of innovator. And it depends if you think setting a world record for "Most Complaints In One Minute" is innovative. Jimmy Fallon does, he's having Rollman on the show again tonight (3rd time), setting world records for URDB. He is also Canadian. Booyah!
Kenny v. Spenny: Also Canadian! And totally naked in this photo. I do not know what Kenny is doing but it's making me feel like putting some lotion on my skin.

Check out the full list here, or wander through the Heeb 100 Portrait Gallery at 92Y Tribeca tonight — IRL! — over here.
Have a tip we should know? tips@mediaite.com