State Department Calls CNN 'Disgusting' For The 'Indefensible' Airing Journal Of Amb. Chris Stevens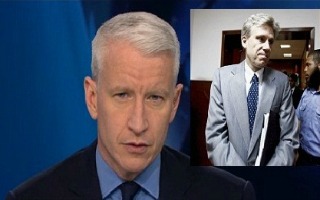 CNN is facing a backlash after broadcasting portions of slain Ambassador Chris Stevens' journal in which he expressed his concerns about his security. On Sunday, a United States State Department spokesman released a statement calling CNN's actions "disgusting" and "indefensible," and claimed that the news network broke its pledge not to broadcast sensitive information contained within the journal.

RELATED: CNN Acknowledges Finding, Using Ambassador Chris Stevens' Personal Journal As Source In Report
According to the journal obtained by CNN, Stevens had expressed concerns about his security in Libya and the "rise of an Islamic extremism." Stevens also said that he was afraid that he was on an "Al Qaeda hit list."
On his Friday program, Anderson Cooper broadcast selected portions of the journal CNN published an online post featuring the journal's contents.
State Department Philip Reines said that CNN had "completely ignored the wishes of the family" of Stevens by broadcasting the details contained within his journal before returning. Reines said that CNN "ultimately broke their pledge made to them only hours after they witnessed the return to the Unites States of Chris's remains."
Given the truth of how this was handled, CNN patting themselves on the back is disgusting.

What they're not owning up to is reading and transcribing Chris's diary well before bothering to tell the family or anyone else that they took it from the site of the attack. Or that when they finally did tell them, they completely ignored the wishes of the family, and ultimately broke their pledge made to them only hours after they witnessed the return to the Unites States of Chris's remains.

Whose first instinct is to remove from a crime scene the diary of a man killed along with three other Americans serving our country, read it, transcribe it, email it around your newsroom for others to read, and only when their curiosity is fully satisfied thinks to call the family or notify the authorities?

When a junior person at CNN called, they didn't say, 'Hello, I know this is a terrible time, but I'm sure you want your son's diary, where do you want it sent?' They instead took the opportunity to ask the family if CNN could report on its contents. Contents known only to Chris Stevens, and those at CNN who had already invaded his privacy.

When the senior most levels of CNN were finally reached, they needed to be convinced to do the right thing. But not before they took a second shot at convincing the family to let them report on the contents. A family member made it crystal clear directly to CNN that they wanted Chris's diary and would not make any other decisions until then. But that wasn't fast enough for CNN, so they helpfully offered to send the family the transcript they'd already made and passed around, to put a rush on it for their own purposes.

It was then made clear to them, for what must have been the fourth time in the same call, that they wanted to look at it privately, together as a family before making any decisions. Period. CNN finally heard their request enough times that they had to accept it, agreed to abide by the clear wishes of the Stevens family, and pledged not to use the diary or even allude to its existence until hearing back from the family.

But the Stevens family was never given that chance. I guess four days was as long as CNN could control themselves, so they just went ahead and used it. Entirely because they felt like it. Anderson Cooper didn't even bother to offer any other explanation as to why the network broke its promise to the family. And only did so after being contacted by a reporter asking about the diary and their convoluted sourcing.

How do they justify that? They have yet to even try to defend the indefensible. Not a proud episode in CNN's history. I'm sure there are many good people in the CNN newsroom equally appalled by this decision and wondering who above them authorized this course of action.
UPDATE: CNN responds to the unfolding controversy surrounding the journal of Ambassador Chris Stevens with the following statement:
CNN did not initially report on the existence of a journal out of respect for the family, but we felt there were issues raised in the journal which required full reporting, which we did. We think the public had a right to know what CNN had learned from multiple sources about the fears and warnings of a terror threat before the Benghazi attack which are now raising questions about why the State Department didn't do more to protect Ambassador Stevens and other US personnel. Perhaps the real question here is why is the State Department now attacking the messenger.

As we said, we had multiple sources on Anderson Cooper's report Wednesday night.

The reason CNN ultimately reported Friday on the existence of the journal was because leaks to media organizations incorrectly suggested CNN had not quickly returned the journal, which we did. We reached out to the family of Ambassador Stevens within hours of retrieving the journal and returned it through a third party, within less than 24 hours from the time we found it. Out of respect to the family, we have not quoted from or shown the journal.
h/t Huffington Post
> >Follow Noah Rothman (@Noah_C_Rothman) on Twitter
Have a tip we should know? tips@mediaite.com