State Department Memo Reveals Cover-Up Of Inappropriate Behavior By Global Embassy Security Staff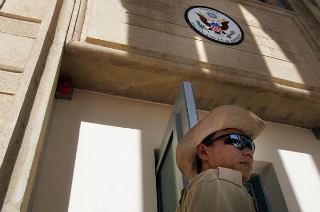 An internal State Department memo uncovered by CBS News reveals an intentional effort by officials seeking to cover-up "illegal and inappropriate behavior" by employees within America's diplomatic establishment. The memo details Diplomatic Security Service (DDS) personnel, an agency tasked with ensuring security for American diplomatic employees, and credentialed diplomatic staff who were linked to incidences of sexual assault or drug trafficking. In many cases, CBS reports, investigations into these abuses were either manipulated or "simply called off."

"CBS News' John Miller reports that according to an internal State Department Inspector General's memo, several recent investigations were influenced, manipulated, or simply called off," the report reads.
The memo obtained by CBS News cited eight specific examples. Among them: allegations that a State Department security official in Beirut "engaged in sexual assaults" on foreign nationals hired as embassy guards and the charge and that members of former Secretary of State Hillary Clinton's security detail "engaged prostitutes while on official trips in foreign countries" — a problem the report says was "endemic."
The memo reveals the details of an "underground drug ring" operating in Baghdad by State's security officers which supplied security contractors with narcotics.
RELATED: BBC Editor Claims 'Heads Will Roll' Over Benghazi, Admits He Saw It As 'Partisan Attack' Before ABC Report
The bombshell CBS report also notes that one former investigator within the State Department told Miller, "We also uncovered several allegations of criminal wrongdoing in cases, some of which never became cases."
"DSS agents told the Inspector General's investigators that senior State Department officials told them to back off," the CBS report alleges.
"In one specific and striking cover-up, State Department agents told the Inspector General they were told to stop investigating the case of a U.S. Ambassador who held a sensitive diplomatic post and was suspected of patronizing prostitutes in a public park," the report continues. The memo notes that this ambassador "routinely ditched" his security detail in order to "solicit sexual favors from prostitutes."
Once those allegations surfaced, that ambassador was recalled to Washington but was eventually allowed to return to his post.
In a statement provided to CBS News, the State Department said they will "not comment about specific allegations of misconduct, internal investigations or personnel matters. Not all allegations are substantiated. It goes without saying that the Department does not condone interference with investigations by any of its employees."
Read the report via CBS News
> >Follow Noah Rothman (@NoahCRothman) on Twitter
Have a tip we should know? tips@mediaite.com