State Regulator Claims Trump U Fraud Case Was Dropped in 2010 For 'Political' Reasons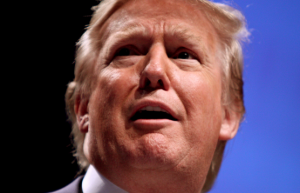 Last night, we showed you an interview between Jake Tapper and Donald Trump. Naturally, they talked about the Trump University fraud case, or, rather, Tapper tried to talk about and it and Trump spent five minutes trying to derail him. At one point, Trump tried to do that by saying, "Did you know that these people [who are bringing the suit] went to every attorney general, practically, in the country that they could and did you know that this case was turned down by almost every attorney general from Texas to Florida to many of these other states?"
The case was not pursued by attorney generals from Texas to Florida to many of these other states, okay? Got that? Remember that because we are moving on to something relevant.
See, in Texas, former Deputy Chief of Consumer Protection John Owens just released 14 pages of proof that he had Trump for scamming millions from students of his now-defunct real estate seminar, according to the AP. In that 14-page internal summary of the case Owens and his team built against Trump, it's clear that they were angling to get back some $2.6 million students spent on seminars and materials, plus another $2.8 million in penalties and fees.
Owens claims that he was told to drop the case even though his evidence was substantial. He told the AP that the order for him to drop it was "highly unusual" as it left the duped students to recover their own money with no assistance.
"It had to be political in my mind because Donald Trump was treated differently than any other similarly situated scam artist in the 16 years I was at the consumer protection office," said Owens, whose boss at the time was then-Attorney General Greg Abbott, the man you may now know as the state's governor. Note that Trump donated $35,000 to Abbott's gubernatorial campaign.
A spokesperson for the governor named Matt Hirsch said this:
The Texas Attorney General's office investigated Trump U, and its demands were met — Trump U was forced out of Texas and consumers were protected. It's absurd to suggest any connection between a case that has been closed and a donation to Governor Abbott three years later.
Pay close attention to how he made no attempt to claim that Trump U was not fraudulent. In fact, he pointed out that "consumers were protected" by its ousting from the state.
The current AG of the state, Ken Paxton, issued a cease and desist order against Owens yesterday after the internal summary was made public, but Owens isn't going down that easily. He said, "I have done nothing illegal or unethical. I think the information I provided to the press was important and needed to be shared with the public."
Okay, so that covers Texas, but what about Florida, the other state Trump mentioned in the Tapper interview? Well, here's how the AP put it:
Florida Attorney General Pam Bondi briefly considered joining a multi-state suit against Trump U. Three days after Bondi's spokeswoman was quoted in local media reports as saying her office was investigating, Trump's family foundation made a $25,000 contribution to a political fundraising committee supporting Bondi's re-election campaign.

Bondi, a Republican, soon dropped her investigation, citing insufficient grounds to proceed.
Well then. No word yet on "many of these other states," but it probably won't be long until we hear about them, too.
[image via Gage Skidmore]
For more from Lindsey, try Twitter or Facebook.
Have a tip we should know? tips@mediaite.com