Stephanopoulos Reveals Priebus Flaked on Interview Because He 'Couldn't … Defend' Trump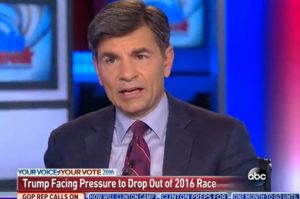 Did you notice a lot of Rudy Giuliani on your television screen this morning? Whether you were tuned into CNN, Fox News, NBC, or ABC, you got an eyeful of the former mayor of New York City. Of course, we knew this would happen: Last night, news broke that Donald Trump's campaign manager Kellyanne Conway and RNC Chairman Reince Priebus were being replaced by Giuliani across all of the vital Sunday political talkshows.
Priebus was supposed to appear on CBS and ABC today. As the Washington Examiner is putting it, he was "scrubbed" from CBS, but it's the way ABC's George Stephanopoulos put it that is really worth noting.
While speaking to Representative Charlie Dent on This Week, he said this:
You have called on the GOP chair ReincePriebus to take the lead. He was supposed to be on the show this morning and backed away and said he couldn't come on to defend DonaldTrump on this particular issue. Are you getting any signal from him or his team that he's prepared to take more aggressive action to get DonaldTrump off the ticket?
The "particular issue" to which the anchor referred, of course, is the leaked audio of Trump lewdly discussing how easy it is to perpetrate sexual assault as a famous person. Numerous Republicans have backed away from Trump in the two days since that audio leaked. According to Stephanopoulos, Priebus is now among those who simply cannot defend Trump.
[image via screengrab]
This is an opinion piece. The views expressed in this article are those of just the author.