Report: Reince Priebus Tells RNC Staffers 'To Do What's Best For Them' Regarding Trump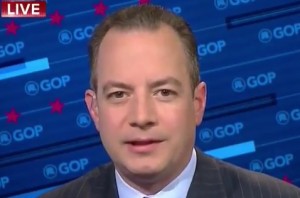 According to a tweet sent out by MSNBC's AM Joy, the Republican National Committee Chairman is apparently telling his staff to vote their conscience when it comes to the Republican presidential candidate.
#BREAKING: @Reince of @RNC is telling staffers to do what's best for them as folks worry about what #Trump campaign means for careers #AMJoy

— AM Joy w/Joy Reid (@amjoyshow) October 9, 2016
This comes amidst reports that the RNC gathered over the weekend to look over its option as far as Donald Trump is concerned. As Republican lawmakers and politicians have fallen over themselves to unendorse the real estate mogul in the aftermath of his hot mic moment with Access Hollywood's Billy Bush, Priebus has discussed with RNC lawyers the possibility of replacing Trump on the ticket.
The RNC has already redirected funds away from the Trump campaign to further help down-ballot candidates in this final month of the election, indicating the party knows Trump's chances of winning are effectively nil now.
Priebus, who was originally scheduled to appear on Face the Nation today but was replaced by Trump adviser Rudy Giuliani, is apparently traveling with Trump to St. Louis for the second debate.
NEW: RNC Chair Reince Priebus and Rudy Giuliani to fly with Donald Trump to tonight's debate, sources tell @JTSantucci.

— ABC News Politics (@ABCPolitics) October 9, 2016
And Trump campaign manager Kellyanne Conway confirmed Priebus was on the plane with Trump.
@realDonaldTrump on phone with @mike_pence @Reince on plane en route to #StLouisdebate pic.twitter.com/T7Dbjq75Cs

— Kellyanne Conway (@KellyannePolls) October 9, 2016
The following 24 hours should be very interesting, to say the least.
UPDATE 2:24 PM ET: NBC News released a report detailing what Priebus and RNC spokesman Sean Spicer had told their staff regarding the Trump campaign.
According to a source within the RNC, Priebus is telling staffers to do "what's best" for them as aides at every level fear working on the Trump campaign's behalf could damage their reputation. Adding to their concern is the possibility more damaging footage of Trump might emerge.

"The guy has been in the public eye for thirty years," the source said of Trump. "There's got to be more."

RNC spokesman Sean Spicer denied Priebus had given staff permission to break with Trump, tweeting that such reports were "100% false."
[image via screengrab]
–
Follow Justin Baragona on Twitter: @justinbaragona
Have a tip we should know? tips@mediaite.com