Stephen Colbert Gives Practical Advice on How to Sift Through Jumbled Tax Jargon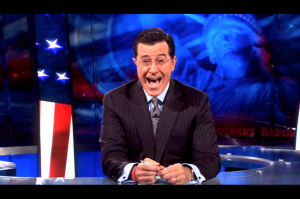 Even though in 2016 "Tax Day" isn't officially until Monday, the date 4/15 is easily the most recognizable date dealing with all things tax-related. In the spirit of the, uh, let's call it holiday, Texas Senator and GOP candidate Ted Cruz appeared on CNBC this morning to give a lengthly run-down of his proposed tax policies; meanwhile, Late Show host Stephen Colbert sent out a little handy reminder on how best to fill out those pesky tax forms that are often far too complicated for most people to understand at first glance.
It's the #LSSC tax guide! Print this out and throw it into the grocery bag where you keep your receipts. pic.twitter.com/bcPtH2ik87

— Stephen Colbert (@StephenAtHome) April 15, 2016
The above Tweet features comedically annotated notes to the standard IRS 1040 form for individual income tax returns, including the prompt, "Enter the name on the passport you purchased after faking your death."
The unofficial "Late Show Tax Guide" also includes instructions to, "Staple your W-2 here, along with a handwritten apology for cheating on your taxes," and "Here you enter the money the government has already withheld from your paychecks, which raises the logical question: 'Why do we still have to do this?!'"
The comedic bit even includes a subtle dig at the former Chairman of Freddie Mac and current IRS Commissioner; on the line that asks for a signature, Colbert notes, "Perk up your day by signing a fake, humorous name such as Ben Dover or John Koskinen." Please refer to Google if you're unsure which of these two names refers to the IRS Commissioner.
[image via Flickr]
—
J.D. Durkin (@jiveDurkey) is a columnist at Mediaite.
Have a tip we should know? tips@mediaite.com