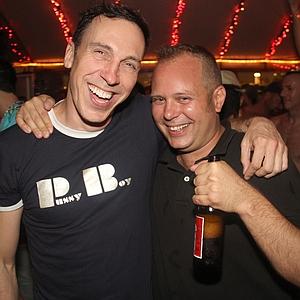 Oh, that irascible Steven Slater! Not only is he working on his big reality show, he's also living it up! Page Six reported that Slater had a wild night this weekend, partying on a cruise for a big birthday bash for the VP of marketing for Playgirl. The only problem is, the eagle-eyed folks over at Gawker realized that the guy in the picture kind of doesn't look that much like Slater. Damn! Will these Slater news stories stop ruining all of our dreams?
Here's how Page Six reported it:
"Steven Slater didn't seem worried about the law on Sunday as he partied with 350 other gay men on a birthday cruise for Playgirl VP of marketing Daniel Nardicio. Slater — the JetBlue flight attendant who cursed out a planeload of passengers before he slid down the chute — enjoyed bottles of Budweiser and shouted, 'Fly United!' Slater — who has reportedly been offered a reality TV show about disgruntled workers quitting in dramatic fashion — faces charges of criminal mischief, reckless endangerment and trespassing."
It makes total sense for this story to be true. If Steven Slater is supposed to be the living embodiment of the dreams of disgruntled workers everywhere, it's only logical that he would end up swigging beers at a party for the Playboy or Playgirl of the specific dreamer's personal choice. But no, the Gawker killjoys had to ruin everything with their facts.
By the way, if you're at all annoyed at Fake Steven Slater for playing off his lookalike's fame, take heart. As the Slater backlash blooms (and judging by the comments on the Page Six post, that's already in full effect) is going to seem like a curse as much as a beer and party magnet.
Have a tip we should know? tips@mediaite.com