Stop It! Partisan Speculation About Colorado Shooter: He's A Tea Partier; No, He's A Democrat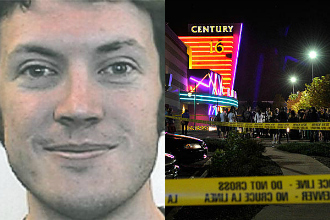 It didn't take long Friday morning for the media to somehow inject political motives into the tragic mass shooting at an Aurora, Colo. movie theater that has left 12 people dead and dozens more injured. Pundits, politicians, and reporters often engage in the speculation business; and today has been no exception.
In the wake of such a tragedy, everyone is searching for an answer as to why someone could do such a thing. But preconceived notions and partisan ideologies lead people to speculate, prematurely attribute political motives, and assign blame to things like popular culture or religion.
Most want to wait for the details to come out, but others point fingers. CNN "expert" Pat Brown was quick to blame the scourge of violent video games: "teenage psychopaths get inspired by and want to make it real." Congressman Louie Gohmert (R-TX), with characteristic restraint, suggested to the Heritage Foundation that this type of massacre is somehow the result of… "the ongoing attacks on Judeo-Christian beliefs."
But perhaps the most egregious finger-pointing came this morning when ABC's Brian Ross falsely reported that alleged shooter James Holmes could've been a Tea Party member simply because one of many James Holmes' in the Denver metro area happened to be active on an internet Tea Party forum. As the report gathered steam (and controversy), conservatives rightfully expressed disgust with the speculative finger-pointing that included no verification whether this was the correct James Holmes.
Of course, ABC realized the error and issued an apology on behalf of the company and Ross: "That report was incorrect. ABC News and Brian Ross apologize for the mistake, and for disseminating that information before it was properly vetted."
But that apology came not before conservative blog Breitbart.com lept to make a similarly unverified claim that Holmes was, gasp… a registered Democrat. This speculation was based on the fact that one of the many Denver-area James Holmes' had registered to vote using a California-issued Social Security number (the alleged shooter was from San Diego).
It turns out this report was also false. Breitbart later updated the story to say that perhaps the shooter Holmes was not registered to vote at all. But the tit-for-tat was already done: Breitbart.com rightfully attacked ABC for falsely reporting the suspect was a Tea Partier, but then falsely reported the suspect was a Democrat.
As we just recently learned, the obviously delusional killer believed himself to be Batman's nemesis the Joker. Facts like that are far more relevant to figuring out this tragic mess than whether he was a registered Democrat and posted on some Tea Party message board. It makes the Breitbart vs. Mainstream Media (ABC) battle seem helplessly partisan.
Of course, Time Magazine's Michael Grunwald suggested today that there is "nothing wrong with politicizing a tragedy." And he's partially right: this shooting will inevitably lead to a national debate on a variety of issues.
But why can't a psycho just be a psycho? Let the details actually come out and then you can make scintillating judgments. But everyone, please: Just stop for today.
>> Follow Andrew Kirell (@AndrewKirell) on Twitter
Have a tip we should know? tips@mediaite.com