Students Ask U of Virginia President to Stop Quoting Jefferson Because He Owned Slaves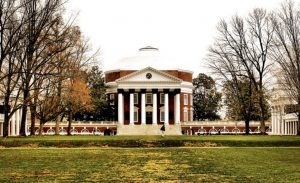 On November 9, the President of the University of Virginia, Teresa Sullivan, sent an email to students that called for unity after the presidential election. To the displeasure of many students and faculty, it included a quote from Thomas Jefferson:
Thomas Jefferson wrote to a friend that University of Virginia students "are not of ordinary significance only: they are exactly the persons who are to succeed to the government of our country, and to rule its future enmities, its friendships and fortunes." I encourage today's U.Va. students to embrace that responsibility.
In reaction to the email, according to the student-run Cavalier Daily, professors from the psychology department and elsewhere sent Sullivan a letter asking her to refrain from using Jefferson's quotes because he once owned slaves. It was signed by 469 students and staff and included this:
We would like for our administration to understand that although some members of this community may have come to this university because of Thomas Jefferson's legacy, others of us came here in spite of it. For many of us, the inclusion of Jefferson quotations in these e-mails undermines the message of unity, equality and civility that you are attempting to convey.
Sullivan's email was sent as a response to the current political climate, but Assistant Psychology Professor Noelle Hurd says that the letter she drafted was, too. She explained, "The intention of the email was to start a conversation with our administration regarding ways to be more inclusive. In the current climate, we must seize every opportunity to communicate that this university welcomes individuals from all backgrounds."
Sullivan responded with a statement that said both, "I fully endorse their right to speak out on issues that matter to all of us, including the University's complicated Jeffersonian legacy," and, "Quoting Jefferson (or any historical figure) does not imply an endorsement of all the social structures and beliefs of his time."
She went on to explain that Jefferson could never have foreseen the diversity of the university and entire country or the diversity of the leaders U.Va. would produce.
"All [students] belong at today's U.Va., whose founder's most influential and most quoted words were '…all men are created equal,'' she said. "Those words were inherently contradictory in an era of slavery, but because of their power, they became the fundamental expression of a more genuine equality today."
[image: Phil Roeder]
Have a tip we should know? tips@mediaite.com