Students Burst Into Laughter When Corey Lewandowski Says 'Mexico Will Pay for the Wall'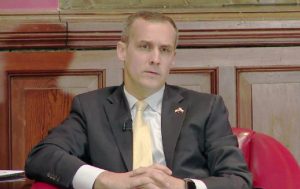 During a Q&A session following a speech at the Oxford Union this week, former Trump campaign manager Corey Lewandowski was confronted by one questioner over her belief that Donald Trump is a bigot and liar, and his answer led to mocking laughter.
The Oxford Union is a debating society that is located in Oxford, England, and its membership is drawn largely from the student body of the University of Oxford. While Lewandowski was speaking at the Union, members of the University of Oxford Student Union organized a protest outside, stating "fascists are not welcome here."
Lewandowski was asked by one young woman how he had so little self-respect that you can stand here and defend a candidate who's not only a bigot, but a liar who doesn't have the courtesy to follow through," leading to the former CNN political commentator to provide the following answer.
Well, the good news is I'm seated doing that, so I don't have to stand, so I appreciate that. But here's what it comes down to: Mexico will pay for the wall, and it's very simple.
Immediately after he said Mexico will pay for the wall, the audience full of students burst out into laughter. According to ShareBlue, he pivoted to talking about Trump's meeting with the Mexican president and economic concerns in that country. However, he didn't actually address the woman's question about Trump being a bigot or liar and Lewandowski's defense of him.
Lewandowski was fired as Trump's campaign manager in June and almost immediately was hired by CNN as a contributor. The network faced criticism over the hiring, especially when it was disclosed that Lewandowski was receiving severance pay from the Trump campaign. After Trump won election, Lewandowski resigned from CNN amidst rumors that he may have a job with the new administration.
H/T Tommy Christopher/ShareBlue
[image via screengrab]
–
Follow Justin Baragona on Twitter: @justinbaragona
Have a tip we should know? tips@mediaite.com