Study: In Online Dating, Whites Least Likely to Self-Segregate Along Racial Lines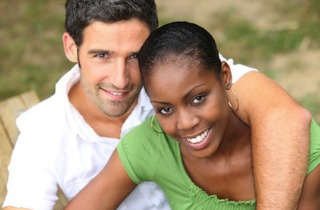 In a bit of counterintuitive news, a recent study of online dating habits reveals that the instinct to self-segregate along racial lines while seeking romantic partners is not as strong as once believed. According to a University of California San Diego sociological study, "The Limits of Racial Prejudice," published in the academic journal Proceedings of the National Academy of Sciences, while race still matters for those pursuing romance in online dating forums, it is a barrier to contact that is regularly overcome.

The study of heterosexual interactions in the online dating forum OKCupid, authored by Kevin Lewis, found that most users were likely to reach out to potential partners across racial lines or reciprocate cross-racial contact.
"The tendency to initiate contact within one's own race, the study observes, is strongest among Asians and Indians and weakest among whites," a press release on the study read. "And the biggest 'reversals' are observed among groups that display the greatest tendency towards in-group bias, and also when a person is being contacted by someone from a different racial background for the first time."
RELATED: CNN's Sally Kohn Finds the Racism Angle in Huckabee's 'Libido' Comment
Lewis says that the study primarily reveals that people who have been taught to expect discrimination anticipate rejection and are therefore more likely to self-segregate. But this instinct is often overcome if a person of another race reaches out first.
"Based on a lifetime of experiences in a racist and racially segregated society, people anticipate discrimination on the part of a potential recipient and are largely unwilling to reach out in the first place," he said. "But if a person of another race expresses interest in them first, their assumptions are falsified—and they are more willing to take a chance on people of that race in the future."
He closes, however, by noting that the effect is temporary and habitual patterns of racial self-segregation return within one week. "Racial bias in assortative mating is a robust and ubiquitous social phenomenon, and one that is difficult to surmount even with small steps in the right direction," Lewis closes. "We still have a long way to go."
Read the full study via Proceedings of the National Academy of Sciences
[Photo via SheThrives]
— —
> >Follow Noah Rothman (@NoahCRothman) on Twitter
Have a tip we should know? tips@mediaite.com