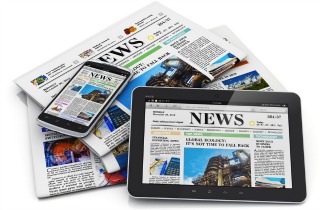 The Pew Research Center is out Tuesday with an exhaustive study on how news sources are evaluated across the ideological spectrum, ranging from "consistently liberal" to "consistently conservative."
One part of the study ranks the degree to which a sample of TV, radio and internet news sources are trusted. The only outlet that is more trusted than not by each ideological group is the Wall Street Journal.
Here are the five sources that were seen as least trustworthy by a majority of ideological groups, starting with the one seen as most untrustworthy:
1. BuzzFeed
The wildly popular viral news site was evaluated as "more distrusted than trusted" by hardline liberals and conservatives; moderate liberals and conservatives; and the ideologically mixed. That's every single group included in the survey.
2. The Rush Limbaugh Show
Only the consistently conservative evaluated Limbaugh as "more trusted than distrusted." Moderate conservatives were so-so on the show. Every other group said they are more distrustful of Limbaugh than not.
3. The Glenn Beck Program
Beck's show is seen as a little more trustworthy among moderate conservatives than Limbaugh's. The two shows were evaluated the same in terms of trustworthiness by all other groups.
4. The Ed Schultz Show
The Ed Schultz Show is essentially The Rush Limbaugh Show but in reverse. Hardline liberals say he's mostly trustworthy. Moderate liberals say he's equally trustworthy and not. All other groups say he's not trustworthy.
5. Al Jazeera America
The Qatar government-funded network appears to still suffer from a credibility problem. In terms of trustworthiness across ideological lines, it mirrors The Ed Schultz Show.
Pew's graphic: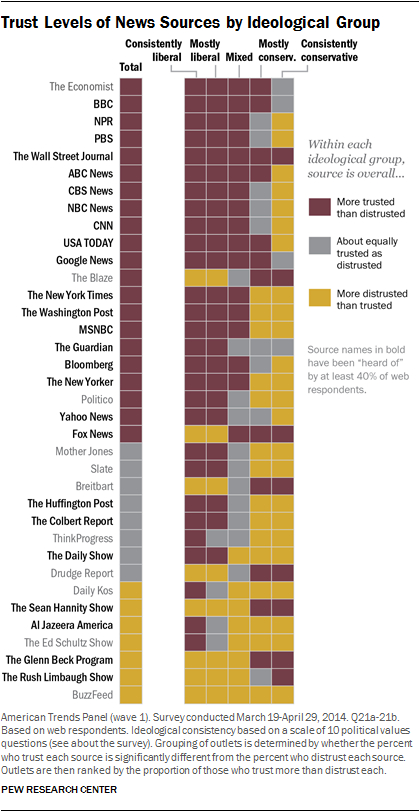 [Photo via Shutterstock]
— —
>> Follow Eddie Scarry (@eScarry) on Twitter
Have a tip we should know? tips@mediaite.com