Surprise! Some Breitbart.com Guy Reacts Like A Buffoon To NBA Player Coming Out As Gay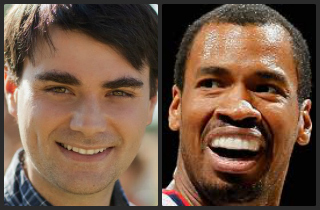 When Jason Collins became the first male athlete to be openly gay while playing for a pro sports team this morning, it was pretty much expected that social conservatives would come out of the woodwork to troll the heck out of the NBA center and somehow try to diminish the importance of his coming out in a sports environment dominated by homophobia.
Naturally, enter some Breitbart.com guy. Not just some Breitbart guy, but the editor-at-large and king of nasaly whining Ben Shapiro. He fired off a few predictably buffoonish tweets that attempted to minimize the importance of an NBA player coming out: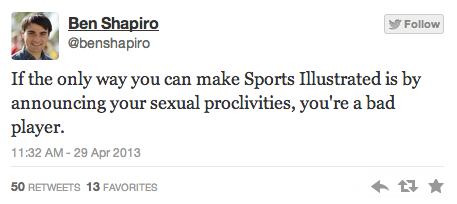 Coming from an social arch-conservative whose screed-of-a-book stops just short of proposing a ban on pornography, we shouldn't be surprised he'd respond in such a manner.
But the way in which the following tweet was promptly shut down by the Internet is worth noting: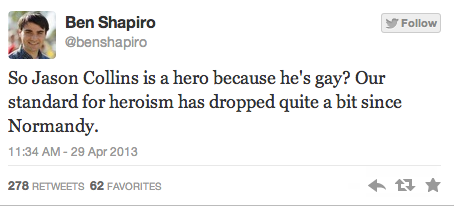 So Shapiro is absolutely aghast that people would dare call Collins a "hero" for coming out as homosexual in professional sports. It diminishes the accomplishments of real heroes, says Shapiro — you know, the ones who experience the hell of war and risk their lives to defend freedom and return safely from overseas conflict.
But, as the Internet helpfully point out, Shapiro himself has defiled that standard for "heroism" … and has done so repeatedly:

Conservative radio host Mark Levin must be on par with Normandy then?

Ah, yes, Sen. Ted Cruz must also be just like the brave men (like my grandfather) who fought on the beaches of Normandy.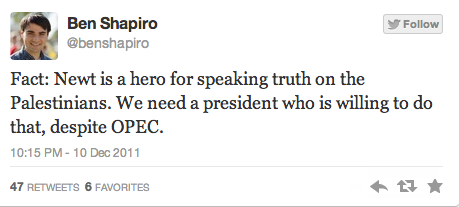 Yep. Captain Moonbase has to be on the same level as Normandy's heroes. Otherwise Shapiro has been contributing to the degradation of the word "hero" all along!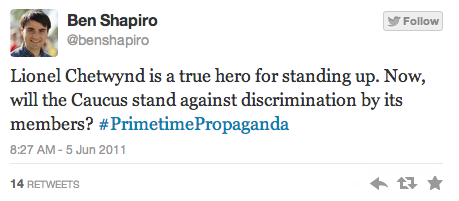 Ah, yes, so coming out as a conservative film producer in a world full of liberal film producers… that makes you a hero. But not coming out as gay in a sports environment that fears homosexuality?
Ultimately, and not surprisingly, it seems as though the definition of "hero" is: Whatever Ben Shapiro thinks is heroic.
Also, just a reminder to Ben Shapiro: At the 2013 Conservative Political Action Committee, one of your little insular socially conservative speeches was hosted around the same time as the controversial "pro-gay" roundtable. Note the disparity in attendance.
Your event, via @existentialfish: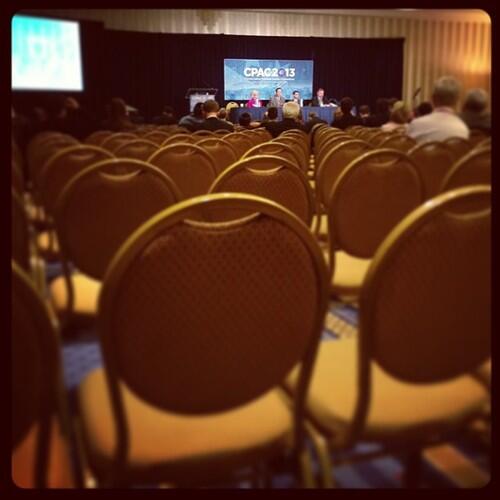 The "gay" event's crowd, via: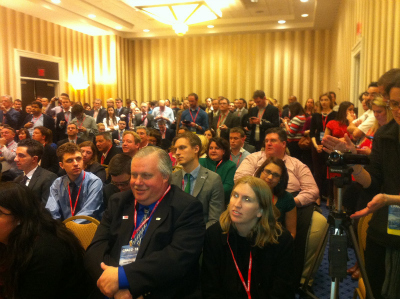 Hopefully this serves as a helpful metaphor for you.
— —
>> Follow Andrew Kirell (@AndrewKirell) on Twitter
Have a tip we should know? tips@mediaite.com