Syria Siesta: Lazy Delay on Possible Military Action Good News For Cable News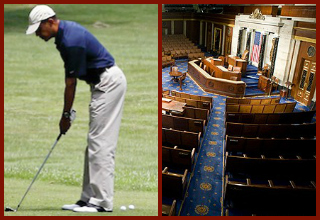 A recent Fox News poll says 82 percent of Americans think Congress doesn't deserve five weeks off to finish out summer. The findings (for once) are not split along party lines: 82 percent of Republicans say no holiday, while 80 percent of Democrats concur.
So when President Obama shrewdly/cowardly (depending on your perspective) punted the whole Syria decision to Congress, the first reaction of many Americans was, "OK, so when's the vote? Today? Tomorrow?"
The answer, of course, is September 9th. It's only Week 5 of vacation, after all…and besides, we can't let a little thing like war get in the way of long strolls on the beach, ice cream and fantasy football drafts.
The President also isn't feeling a sense of urgency: Roughly 30 minutes after announcing his decision on Syria, Mr. Obama headed to the golf course. No worries: Vice President Biden was likely working the phones to gain support for military action…except he wasn't. Biden was helping fill out the President's foursome instead.
But this isn't about the President simply following in the footsteps of 15 of the last 18 Presidents in terms of sharing an affinity for golf. Conservative media—particularly Sean Hannity—love to point out how often the President hits the links, but given the pressure of the job, he has every right to play whenever he chooses.
The complaints about the President and golf always appear petty.
Except the ones that came after he played this past Saturday…
Except right after making such a sober, serious announcement around a potential conflict that could spill into Israel, could trigger terror strikes here in the U.S., among other horrible scenarios (including one that involves China and Russia).
From Congress to the President, the whole leisure image at a time like this just looks so bad, so lazy. It shows Assad and the rest of the world that we shouldn't be taken seriously in any capacity. Sense of urgency? Please. Do you know how hard it is to get a flight to Washington on a holiday weekend?
Declaring a red line on chemical weapons shouldn't include an asterisk. It's like Jack Nicholson/Colonel Jessup ordering the code red in A Few Good Men: A definitive statement without ambiguity that is carried out swiftly and without debate.
And it's not like the President (or ones before him) have sought Congressional approval in these situations before: Libya in 2011 is the most recent example in Mr. Obama's case. Reagan deployed troops to Granada. Clinton reigned fire on Sudan and Afghanistan. Ironically, despite what we always hear from some in the media about being a go-it-alone cowboy, George W. Bush went to and got approval from Congress for military action in Afghanistan and Iraq. His father did the same leading up to the first Gulf War.
So what does this vote on Syria–and the delay that goes with it–mean for cable news?
Ratings.
As noted in this space before, news producers love countdowns. They especially have an affinity for big events that can be prepared for and scripted. In this case, Congress waiting until September 9th to debate military action means a post-Labor Day schedule that will involve hundreds of panels on CNN, Fox and MSNBC arguing: (A) How Congress will vote; (B) Why we should or shouldn't go to war; (C) What this means for the President; (D) Possible retaliation in the aforementioned various forms.
As a result of this delay on Syria, shows like CNN's Crossfire (reboot) have been moved up one week from its original premiere date (September 16th) to September 9th. Orignally the lack of late-summer hurricanes and Congress still being away promised this upcoming short week would be a slow one on the news front (the whole Miley thing may finally be winding down). That said, the Syria debate—save for any breaking news—will pretty much be the only story we'll be seeing from now until Monday.
Another network who could stand to benefit is the newly-launched Al Jazeera America. International stories—particularly those happening in the Middle East—is the network's self-described strong suit (although its primary rival on the international news front, CNN, is the only U.S. network to have a correspondent in Damascus). On the political side, Fox and MSNBC should also benefit from the debate Syria will obviously generate.
In other words, and as usual, war (and even a lack thereof depending on how the vote goes) will be good for business. But since we're a war-fatigued country, it likely won't be great for business. According to a new Wall Street Journal poll, only 27 percent of Americans feel U.S. military strikes will improve the situation in Syria.
2003, Iraq and the fervor around taking action there this is not…
In the meantime, here's wishing Congress a fine end to a long vacation.
And as we say on the links, hit 'til you're happy, Mr. President…
Taking it easy for the next week may damage U.S. credibility across the globe.
The only people who won't be relaxing?
Those working in front of and behind the camera at a network near you…
—–
Follow Joe Concha on Twitter @ConchSports
Have a tip we should know? tips@mediaite.com