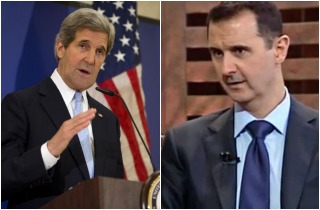 The Los Angeles Times reported Thursday morning that Syria will likely miss the first deadline in the just-brokered deal to capture and destroy the country's chemical weapons to avoid a U.S.-led military retaliation.
According to the deal agreed to in Geneva last Saturday, the country had seven days to submit an inventory of its chemical weapons stockpiles for inspection. Syria indicated it would not have the information ready by this Saturday, and the State Department said it would not demand the inventory on the deadline.
The Times said it was unclear whether Syria had simply not gotten the necessary materials together fast enough, or whether this was a sign of resistance to the deal itself.
Secretary of State John Kerry had placed emphasis on the strict deadlines as a test of Syria's commitment to the deal. "We agreed that Syria must submit within a week—not in 30 days, but in one week—a comprehensive listing," Kerry said last Saturday, adding that the U.S. would tolerate "no games, no room for avoidance, or anything less than full compliance."
The deal between Kerry and Russian Foreign Minister Sergey Lavrov was reached after a tense two weeks in which President Barack Obama made the case to Congress for military action—a campaign that ended, oddly, with Russia taking up a hypothetical voiced by Kerry that missile strikes could be averted if Syrian President Bashar al-Assad surrendered his chemical weapons. The subsequent deal to remove chemical weapons from Assad's possession has come under heavy scrutiny, both for the difficulty of accounting for chemical weapons in the midst of a civil war, and for the trust it places in Assad and Russian President Vladimir Putin.
[h/t L.A. Times]
——
>> Follow Evan McMurry (@evanmcmurry) on Twitter
Have a tip we should know? [email protected]