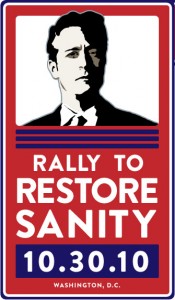 As October 30 grows closer, more details about Jon Stewart's Rally to Restore Sanity (and its partner in crime, Stephen Colbert's March to Keep Fear Live) are slowly emerging. Both events' official websites have just posted surprisingly straightforward FAQ pages that give more information about each gathering.
Exactly what's going to happen at the rally itself—or, rather, the rallies themselves—is still a mystery. In response to who will be speaking, one page says only "Jon Stewart and special guests," while the other responds a bit more tongue-in-cheek-ly: "The Rev. Sir Dr. Stephen T. Colbert, D.F.A. and special guests."

The pages also get a little jokey when they describe where eager donors should ideally direct their money. Here's Stewart's take:
Yes, we encourage you to make donations to the Trust for The National Mall. We feel it's important to preserve this historic site for future rallies and for future Americans to rally on! And let's face it; we're a little afraid that you might make a mess. We really, really hope you don't — we hope that, in the name of sanity and reasonableness, you won't be dicks and will actually pick up after yourselves. But just in case you accidentally, like, put a beverage down on the Mall's coffee table without using a coaster, we figure that giving a little something back to the National Mall might, at least, soften the blow. But really, mainly, it's about the "preserving the historic site" thing.
And here's Colbert's:
Yes, we encourage you to make a donation to Donors Choose. Not only does it help students and teachers improve their classrooms, but it helps you get rid of all that money—money which is filthy and covered in microscopic germs. Yes, horrible germs which most likely have already invaded your body, and which medical science has no answer for. Quick! Quick! Get rid of all that dangerous money! It's bringing nothing but sickness to you and your loved ones! Give it all away to Donors Choose.
Other potentially important tidbits of information: anyone who wishes to volunteer for either the Rally or the March should email DCRally2010@gmail.com; there will be seating available for persons with disabilities; and attendees should leave glass containers, laser pointers, and helium balloons at home.
Oh, and Colbert's followers are permitted to wear costumes to the event. "In fact, we encourage you to dress as your biggest fear," the FAQ says. "Be there and be scared."
Have a tip we should know? tips@mediaite.com