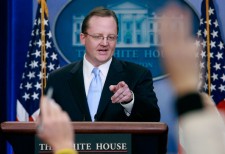 Talking Points Memo, Josh Marshall's bastion of investigative reporting on the web, is the newest member of the White House press pool, according to an announcement from the White House Correspondents' Association on Friday afternoon.
TPM joins the ranks of Ebony and Salon, the web magazine, as the latest news outlets to enter the pool. The Huffington Post is still vying for a spot in the group, which affords its members privileged access to sources and the responsibility of filing pool reports that are disseminated to other journalists and account for much of the actual information gathering behind all the coverage of the president.
TPM became the first blog to win a major journalism award, The Polk Award, for uncovering the US Attorney firing scandal during the Bush years. This year TPM enjoyed an influx of capital to the tune of $500,000-plus and opened a Washington bureau.
But some conservatives are upset that a progressive blog like TPM would get increased access, especially after the recent battle between Fox News and the White House. From Politico:
"If liberals are upset that Fox News is being treated as a legitimate news organization instead of a GOP talking-points channel, then it's mystifying that the [White House Correspondents' Association] is broadening 'news' media to encompass blogs and websites that raged against the Bush White House," said Tim Graham, director of media analysis for the Media Research Center, a conservative watchdog group.

"Would anyone seriously suggest that TPM, the Huffington Post and Salon are more objective than Fox News?" Graham asked.
It's a fair point. But objectivity aside, TPM promises to bring cutting-edge web savvy and investigative muscle to the pool. That's something.
Related: Mediaite Presents: 25 Need-To-Know Bloggers You May Not Know Already [Mediaite]
Have a tip we should know? tips@mediaite.com