Tarantino Accuses 'Vindictive' Disney of Extorting Star Wars to Lock Out Hateful Eight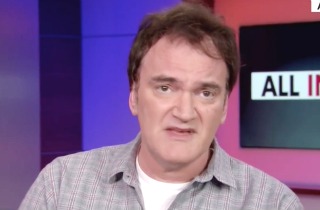 While the release of Star Wars: The Force Awakens has generated massive hype all across America, Quentin Tarantino is not nearly as enthused. His reason? The acclaimed film director says that Disney is "going out of their way" to use the franchise to strong-arm his movie out of theaters.
Tarantino told Howard Stern in an interview today that he had a viewing specification contract with ArcLight Cinemas for the premiere of The Hateful Eight at their iconic Cinerama Dome in Los Angeles. However, Tarantino alleges that when Disney executives extended the stay of Star Wars through the holiday season, they demanded Tarantino's slot at the Dome and threatened to pull the film from Arclight Cinemas nationwide otherwise.
"It was real bad news and it fucking pissed me off," Tarantino said. "They have the biggest movie in the world. We're talking about one theater. They are going out of their way to f*ck me."
Tarantino continued to rant that Disney's move to corner the theater was "vindictive, it's mean, and it's extortion." He also clarified to Stern that while he wasn't mad at Star Wars director JJ Abrams, he was upset that Disney's executives could do this to him after his previous films generated profits for their subsidies.
"I made a lot of money for the Disney corporation," Tarantino said. "They don't need to be this vindictive… They literally threatened the [theater]."
You can listen to the interview with the audio above, via The Howard Stern Show.
[h/t Deadline]
[image via screengrab]
Have a tip we should know? tips@mediaite.com