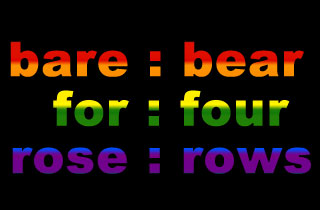 Attention, world: If you're the type of person who knows the difference between a "boar" and a "bore," a "pair" and a "pear," or a "censor" and a "sensor," then guess what? You're promoting the gay agenda.
At least, you're promoting the gay agenda, according to the boss of a man fired for writing a blog post about homophones, the grammatical term for two words that sound the same but have different spelling and meanings.
The Salt Lake City Tribune reports that Tim Torkildson, a "social media specialist" who taught at an English as a Second Language (ESL) school in Provo, Utah, had written an educational post for the site explaining what homophones are. "He knew the 'homo" part of the word could be politically charged, but he thought the explanation of that quirky part of the English language would be educational," the Tribune wrote.
But apparently this didn't pass muster with the owner of the company, as Torkildson recounted on his personal blog:
"I'm letting you go because I can't trust you" said Clarke Woodger, my boss and the owner of Nomen Global Language Center. "This blog about homophones was the last straw. Now our school is going to be associated with homosexuality…

"I had to look up the word" he continued, "because I didn't know what the hell you were talking about. We don't teach this kind of advanced stuff to our students, and it's extremely inappropriate. Can you have your desk cleaned out by eleven this morning? I'll have your check ready."
Woodger told the Tribune that Torkildson was fired "because he would 'go off on tangents' in his blogs that would be confusing and sometimes could be considered offensive." You mean, like homophones? Homophones can be confusing and unnatural.
[h/t RawStory]
[Image via Tina Nguyen]
—
>> Follow Tina Nguyen (@Tina_Nguyen) on Twitter
Have a tip we should know? tips@mediaite.com