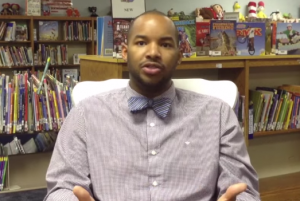 Meet Omar Currie, the third grade teacher at Efland-Cheeks Elementary School in Efland, N.C. who caught the media's attention back in May. When Currie caught a few of his students bullying a male classmate with pejorative uses of "gay" and "woman," he decided not to let the administration deal with it. Instead, he read a "gay fairy tale" to the class, King & King.
As you can imagine, this drew both praise and criticism from administrators, fellow teachers, parents and practically everyone else with an opinion — educated or not. (Usually not.) However, it looks like Currie has given up the fight to keep his job.
According to The New & Observer of Raleigh, both Currie and assistant principal Meg Goodhand, who gave Currie the book, have resigned from their posts at Efland-Cheeks. Several rounds of administrative panels and appeals have upheld the book's use, but Currie feels that he himself has not been supported.
Though he's "disappointed" in how his overseers have treated him throughout the ordeal, Currie says other schools he's interviewing at have all been positive. "It's nice to be told by administrators that my actions were correct."
Despite the school's after-the-fact approval of the book, another round of appeals is currently underway. Three complaints, including one from a parent who disagrees with the superintendent's prior decision, have been filed, and a public meeting is scheduled for Thursday.
[h/t Talking Points Memo]
[Image via screengrab]
— —
>> Follow Andrew Husband (@AndrewHusband) on Twitter
Have a tip we should know? tips@mediaite.com