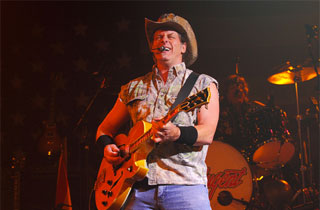 Ted Nugent is at it again. The conservative rocker and prominent critic of Barack Obama has taken to Facebook in order to smear Philando Castile and accuse the president of using his death to engineer a race war.
In a response to Obama's defense of #BlackLivesMatter after he previously condemned the attack on Dallas police officers, Nugent offered a scathing post that claims the "America hating freak" wants a "racewar (sic)."
Nugget followed up on this when he wrote in the comment thread that "Blacks killed more blacks this week than the KKK has in 50yrs."
While Nuggets criticisms of Obama aren't a major surprise, the NRA board member then turned his attention to Castile, the African-American man whose fatal shooting by a cop last week has prompted national conversations about the perceived racial injustice. Specifically, Nugent brought up a Conservative Treehouse article that claimed that Castile was an armed robbery suspect.
The attorney for Officer Jeronimo Yanez, who shot Castile, has used this point as a justification for Yanez after Castile told him that he had a gun during the fateful traffic stop. Attorney Thomas Kelly also said that Yanez shot Castile because he looked like the suspect the police was looking for.
Kelly's arguments are being challenged by Castile family lawyer Albert Goins, who has pointed out that there's no evidence that Castile was involved in the robbery, and that Yanez's actions don't match the argument from his lawyer.
[h/t Media Matters]
[Image via screengrab]
— —
>> Follow Ken Meyer (@KenMeyer91) on Twitter
Have a tip we should know? tips@mediaite.com