Ted Nugent, of All People, Says It's Time to Tone Down the 'Hateful Rhetoric'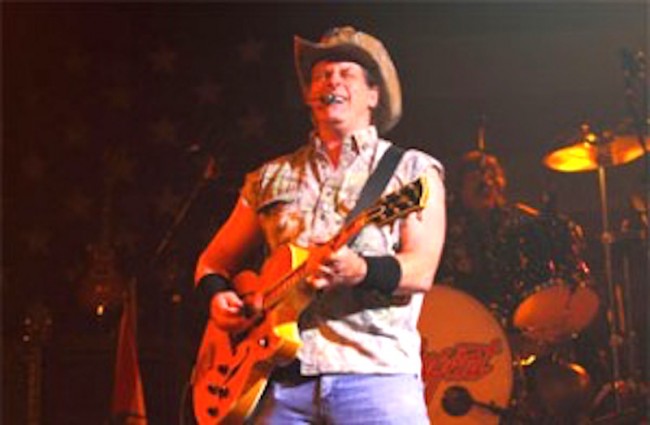 In the aftermath of the Congressional baseball shooting that has left House Majority Whip Steve Scalise in critical condition and others injured, veteran rocker and conservative firebrand Ted Nugent said he would no longer say anything that could be seen as inciting violence against political rivals.
Yes, that Ted Nugent.
Appearing on WABC Radio's Curtis & Eboni, the Motor City Madman said that he's now been convinced that he can't speak in "harsh terms" anymore, citing his wife for showing him a better way. He also encouraged others to take on a more civil tone.
"I cannot and I will not and I encourage even my friends/enemies on the left in the Democrat and liberal world that we got to be more civil to each other," Nugent stated. "The whole world is watching America where you have the God-given right to life, liberty, and the pursuit of happiness. And we have to be more respectful to the other side."
He added, "I'm gonna take a deep breath, and I'm gonna back down. And if it gets fiery, if it gets hateful, I'm going away and I'm not gonna engage in that hateful rhetoric anymore."
Nugent also addressed his past inflammatory comments about Hillary Clinton and Barack Obama, notably when he said they should suck on his machine gun, attributing them to rock and roll energy.
"I'm not trying to make excuses, but when I made those wild ass comments on stage against then-Senator Hillary Clinton and then-Senator Barack Obama, I don't know if you can grasp the degree of adrenaline and intensity and over-the-top animal spirit and attitude that I live on stage," he said. Nugent added that he now has to take a "deep breath" and focus his energy on music.
"I will avoid anything that can be interpreted as condoning or referencing violence," the Nuge noted.
He further explained that he never meant the machine gun remarks literally and that he doesn't "want anyone's lips on my machine guns."
Besides the aforementioned Hillary/Obama gun remarks, Nugent has also called Obama a "subhuman mongrel," claimed he would be in jail or dead if Obama were reelected in 2012, and called the former president the devil while saying Bernie Sanders should "eat shit and die."
Listen to the clip above, via WABC Radio.
[image via Doug James / Shutterstock.com]
—
Follow Justin Baragona on Twitter: @justinbaragona
Have a tip we should know? tips@mediaite.com