The tragic shooting of a Texas deputy at a gas station late last month inspired one teenager to keep an eye on a Texas officer while she was pumping gas to make her feel safe.
Harris County Deputy Constable Tommi Kelley posted about the encounter on Facebook, sharing the selfie they took: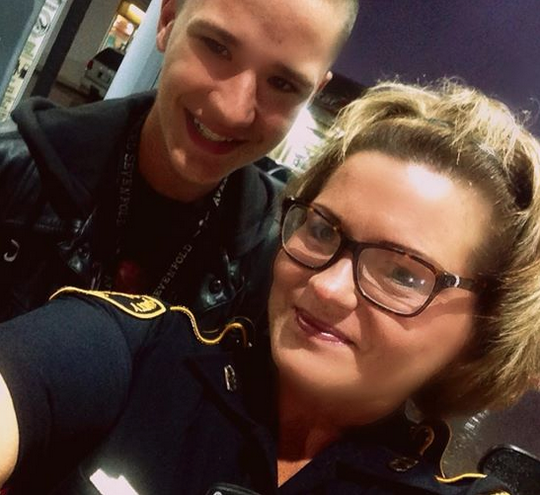 Ok, so EARLY this morning I was pumping gas in my patrol car (reason I look like a Hot Mess!)…& add it was pouring rain…
When this teenager I've never met before is standing right behind me & says, "ma'am, do u mind if I stand here behind you while u get ur gas?"
My initial response was "and why?"…
His reply, "to make sure You stay safe!"
Finished pumping my gas & he was still standing there, in the rain.
He then just walked off & started to get into the passenger side of a car & I asked the driver if she was his Mom & indeed she was. I told her she has an amazing son & she said he wanted to make sure no one hurt me.
Yes, I'm the one with the gun on my hip while he stood there empty handed, but he for sure had my "6" while my back was turned.
With all the terror going on nationwide, this reassured me there are still some pretty awesome individuals out there!
The teen in question, Mckinley Zoellner, appeared on CNN and explained this was something he felt "we should do as a nation" after hearing about the death of Deputy Darren Goforth while he was pumping gas.
You can watch the video below, via CNN:
[image via screengrab]
— —
Follow Josh Feldman on Twitter: @feldmaniac
Have a tip we should know? [email protected]
Josh Feldman - Senior Editor