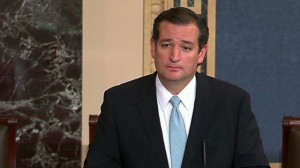 Texas Sen. Ted Cruz (R) remains one of Planned Parenthood's most outspoken critics in the wake of a secret sting that produced several damning videos of its leaders and practices. At the same time, Planned Parenthood's debacle has also garnered it more fans, including Los Angeles comedian Josh Androsky, who helped raise over $1,200 (and counting) for the organization.
According to The Daily Dot's Eve Peyser, Androsky's fundraiser began as a challenge among friends on Twitter. If he could get the 2016 GOP presidential candidate (re: Cruz's social media intern) to block him on the social media site, a friend would have to donate $100 to Planned Parenthood.
On Aug. 28, Androsky's quest to troll the sh*t out of Cruz began:
canadian-born @tedcruz proves that foreigners CAN be popular in texas, but only if they shut down the enitre US government.

— josh androsky (@ShutUpAndrosky) August 28, 2015
.@tedcruz is the only candidate nicknamed "Tickle Boy." sometimes he gets his friends to write it on his forehead. pic.twitter.com/CPo4sNY3tC — josh androsky (@ShutUpAndrosky) August 28, 2015
Within the first 24 hours, others decided to donate to the comedian's charade:
GREAT NEWS! @shelldash will double the donation to planned parenthood! please RT all my shit to ted cruz so it annoys him enough to block me

— josh androsky (@ShutUpAndrosky) August 29, 2015
Androsky's stunt quickly turned into a smorgasbord of insults:
i'm gonna stop clogging your feeds, but every 10 mins i'm gonna tweet @tedcruz a pokemon with the word "fuck" on it. pic.twitter.com/k2YxpcehbF — josh androsky (@ShutUpAndrosky) August 29, 2015
He then decided to open up the betting and donating to his followers by issuing them a call to action:
would you like to add your own donation to Planned Parenthood? place your bets! block or no block? let's raise $$$ and piss off @tedcruz!

— josh androsky (@ShutUpAndrosky) August 29, 2015
DAY 4: the best way to join @tedcruz and i in helping planned parenthood is just to make a donation in his name and take a screenshot of it! — josh androsky (@ShutUpAndrosky) August 31, 2015
It worked. Every time a fan donated, took a screen shot and tweeted it at Androsky, he'd retweet it for all to see:
DAY 10: donate $$$ to @PPact, select "in honor of" and use the name fields to make a joke about @tedcruz being dumb. pic.twitter.com/M7R4boRtBr — josh androsky (@ShutUpAndrosky) September 6, 2015
When asked why he thought his quest to get blocked by Cruz had caught on, Androsky explained:
"I think the reason this has resonated with people is because this Republican field is so cartoonish. They're monsters and they're dangerous, sure, but it's so over-the-top now that it's so easy to push it into comedy. Activism is a serious thing, but online activism in many cases is so self-serious that it gets in its own way of actually doing anything. Being another white guy who just complains or makes jokes about injustice while my life isn't under any threat felt hollow."
Pressed for further comment on his points regarding online activism, the comedian clarified that most protests seem more like "parades that just lead to a drum circle and make us liberal white people feel better about ourselves without actually doing anything."
Whether or not Androsky's right about online activism and modern protests, his Twitter trollery is working. He and his friends and fans have raised money for Planned Parenthood, and though he remains unblocked, Androsky won't be stopping anytime soon.
[h/t The Daily Dot]
[Image via screengrab/Twitter]
— —
>> Follow Andrew Husband (@AndrewHusband) on Twitter
Have a tip we should know? tips@mediaite.com