'Terrible Mistake': Conservative Media Not Happy With Trump's Attacks on AG Sessions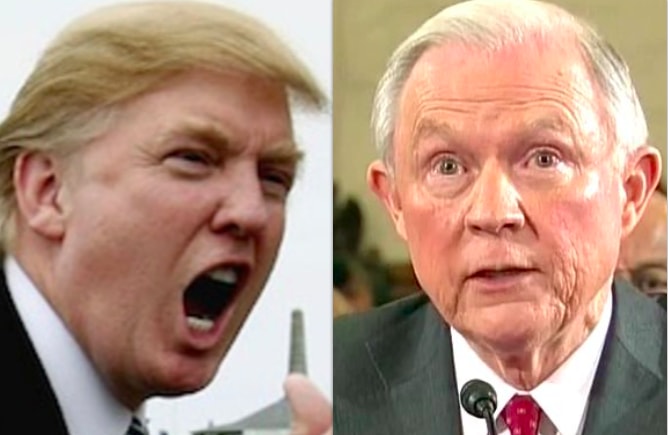 As President Donald Trump's war with his own attorney general reached a fever pitch Tuesday morning — with the president again taking to Twitter to bash Jeff Sessions — conservative media is lining up behind the former Alabama senator.
And it's likely Trump is keeping a watchful eye on their reactions: The Washington Post reported Monday night that the president was soliciting advice from confidantes on whether he should replace Sessions, particularly concerned with how such a move would be perceived by the right-wing media.
"One person close to Trump said the president asked him about how firing Sessions 'would play in the conservative media.'" the Post reported. "Trump also asked him whether it would help to replace Sessions 'with a major conservative,' the person said."
Then, after referring to Sessions as "our beleaguered A.G." in a tweet on Monday, Trump slammed his "VERY weak position on Hillary Clinton crimes" on Tuesday.
While it's unclear what the Post's source advised Trump on the reaction ousting Sessions would receive, it should have been fairly obvious. Sessions is well-liked amongst conservatives, and particularly admired by outlets like Breitbart that fetishize his hardline immigration policies.
Ann Coulter — who previously said Trump would be "finished" if he failed to achieve his immigration policies, including building a border wall — mocked the president on Twitter for his apparent flip-flop on wanting to see Hillary Clinton pursued by the attorney general:
NOV. 22, 2016: "Donald Trump Drops Threat of New Hillary Clinton Investigation" https://t.co/858NNsRwrk https://t.co/mJO9O3X8Y4

— Ann Coulter (@AnnCoulter) July 25, 2017
Conservative radio host Mark Levin said that firing Sessions would be a "terrible mistake," and called on the president to "stop tweet-attacking" the attorney general in a tweet:
Mr. President, stop tweet-attacking Jeff Sessions… https://t.co/n5ymelp2J0

— Mark R. Levin (@marklevinshow) July 25, 2017
Most notably, however, was Breitbart's response. The website is notable for being one of the most loyal outlets to President Trump's administration — it even counts a few former staffers, including Steve Bannon, as current White House officials — but a remarkably critical story was splashed across its front-page on Tuesday:
And here we have Breitbart calling out Trump pic.twitter.com/FXXy9d5V0F

— Oliver Darcy (@oliverdarcy) July 25, 2017
That piece, by Breitbart's Adam Shaw, slammed Trump for his demands Sessions pursue Clinton, a move Shaw writes "only serves to highlight Trump's own hypocrisy on the issue."
Breitbart details Trump's evolving statements on the topic of Clinton's prosecution, which flipped from calling for her imprisonment during the campaign to claiming he did not want to "hurt the Clintons" following his election victory.
Shaw continues to argue that "Sessions represents one of the vital pillars of Trump's immigration agenda," and unleashes what is perhaps his most devastating indictment of the president's ideological flexibility:
Sessions has fought in the trenches for a tough line on immigration for years, back when Trump was pouring money into the campaign coffers of Democrats who wanted to open up America's borders.
There is a long line of White House staffers that have been in and out of Trump's doghouse — though few have actually left — and it's unclear whether Trump will end up firing Sessions, or if the "beleaguered" attorney general will finally tire of the humiliation and resign. Either way, the president's continued torture of him  is very unlikely to satisfy his typically loyal supporters in the conservative media.
Have a tip we should know? tips@mediaite.com
Aidan McLaughlin - Editor in Chief