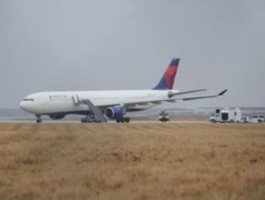 The availability of breaking news online is at an all-time high as Twitter streams, email alerts and RSS feeds blast headlines to millions, who in turn retweet, reblog and recite as fact. But as the progression of Christmas day's Northwest Flight 253 news perfectly demonstrates, speed is the new accuracy. And it's always interesting to trace the correcting of a story with the hindsight a few hours provides.
Take for instance, this Digg headline, still available on the popular stories list, which seems shockingly naive about yesterday's events — now being referred to as an attempted terrorist attack by Nigerian national Umar Farouk Abdulmutallab — but which first hit the web as a head-smackingly stupid holiday flying mistake.
"Fireworks Set Off Aboard Airliner," the headline reads, linking to and quoting a preliminary CNN story.




"A passenger on a Northwest Airlines flight Friday from Amsterdam, Netherlands, to Detroit, Michigan, caused a brief disturbance at the end of the trip by igniting several firecrackers, according to a Delta Air Lines spokeswoman," reads the blurb.
Today, the very same CNN article begins, "A passenger on an international flight bound for the United States Friday ignited a small explosive device shortly before landing in a move the White House called an attempted terrorist attack, a senior administration official said." There is no mention on the page of any edits and the date reads December 26th, though the URL still features "airliner.firecrackers."
An Associated Press article — "Passenger sets off firecrackers on Detroit flight" — reported similar news, quoting a Delta official. Today, however, this report contains no updates and was likely fixed in subsequent versions with the original still intact.
A search of "firecrackers" on Twitter reveals hundreds of tweets passing around these initial, ultimately incorrect, reports. But the corrections in a live stream are far more apparent, and breaking news feeds tend not to delete or edit originals as they go, in favor of just adding to the stream.
The popular Twitter feed and iPhone application BNO News, of @Breaking News fame (recently taken over by MSNBC.com), went through the following updates on Christmas afternoon:
First, the firecrackers report, via CNN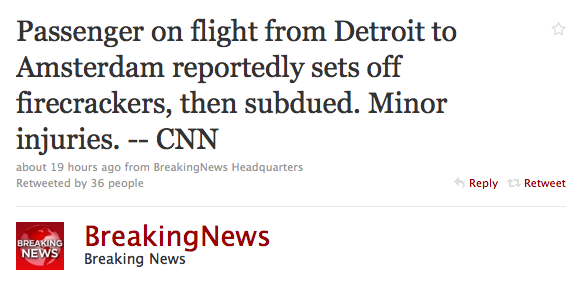 Then, an FBI investigation of a hijack attempt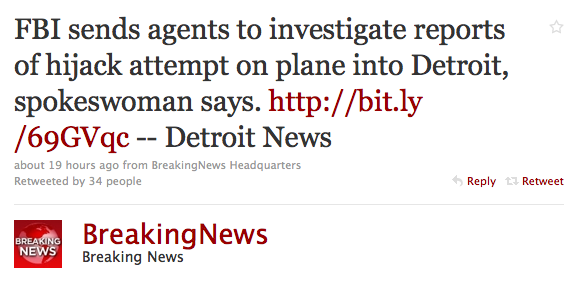 Followed by the AP report of firecrackers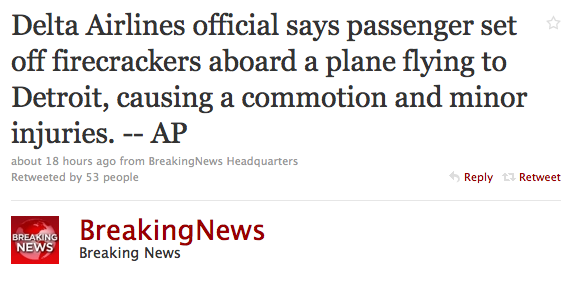 Then, explosives and a Nigerian suspect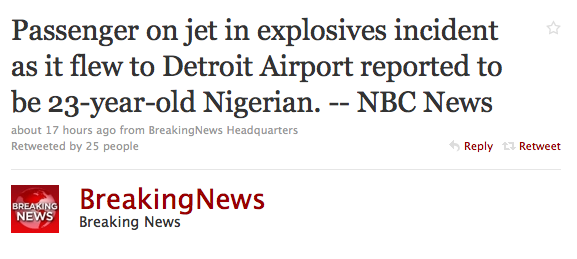 And finally, NBC News reports a "terrorist attack"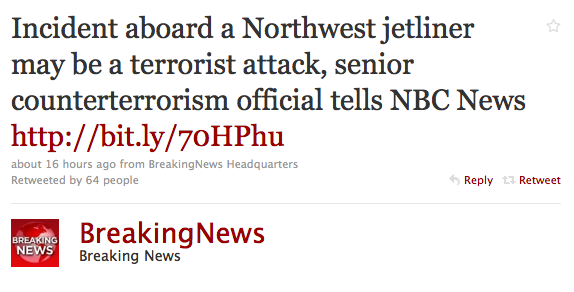 Seen chronologically, it's interesting to watch as more information becomes available, and for streams merely citing other news organizations, the "publish first, confirm later" model has minimal consequences. But for CNN, who appear to be far more sneaky about their corrections and updates, it's a lesson in online journalism and for the "most trusted name in news," it seems they've yet to grasp the importance of transparency online.
Have a tip we should know? tips@mediaite.com