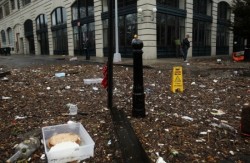 As natural disasters so often do, Hurricane Harvey has yielded a number of displays of humanity's sometimes hidden capacity for compassion. From a young, undocumented man sacrificing his life to rescue flood victims to an abortion provider in the state offering cost-free abortions, people in communities affected by Harvey have not shied from stepping up.
And speaking of the latter, that abortion provider is Whole Women's Health, a women's health organization whose name rose to fame in the wake of the Supreme Court's 2016 landmark decision on Texas laws targeting abortion providers.
Refinery 29 has noted that "among the devastating wreckage from Hurricane Harvey are the remains of health clinics in Houston that provided abortions."
Restrictions on abortion and insurance coverage of it have already rendered the procedure difficult to have, and medially unnecessary, expensive laws and requirements have forced dozens of clinics in the state to shut down in recent years. But Refinery 29's Kasandra Brabaw points out how post-Harvey, "pregnant people in the Houston area face greater difficulty after missing their appointments or being unable to make an appointment due to the storm."
This week, in response to this, Whole Women's Health stepped up to provide cost-free abortions to area women. "The need for abortion care does not stop for natural disasters," the organization wrote in a blog post.
"Continued political attacks on abortion access make an unwanted pregnancy particularly stressful in Texas — add that to the stress of dealing with hurricane aftermath," the post continues. "We can only imagine what a stressful time this must be for those patients who had to miss their appointments or are waiting for the nearest clinic to open."
Travel and lodging fees often together constitute a tremendous burden to affording and access abortion services. The lack of availability of clinics pose a severe burden on women seeking abortions, and the decimation of clinics in the region affected by Harvey will only make this worse.
With a death toll standing at 70 as of this week, Hurricane Harvey's dangers are already apparent, but the lack of availability of women's health clinics could also have the effect of further jeopardizing women's health. Texas already boasts some of the highest maternal mortality rates not only in the United States, but in the industrialized world, ironically due in no small part to the "pro-life" crusade of its lawmakers.
Still, despite the genuine efforts of Whole Women's Health and the activists fundraising for them to protect pregnant women's health and safety and ensure a natural disaster doesn't bar on women's legal rights to bodily autonomy, conservative media have gone so far as to suggest that this operation is solely to "kill more babies."
The availability of affordable abortion services has always been needed in the state of Texas, but now more so than ever before.
This is an opinion piece. The views expressed in this article are those of just the author.