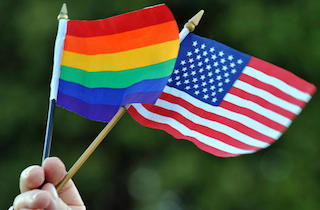 Texas Attorney General Ken Paxton declared Sunday that probate judges may refuse to issue marriage licenses to same-sex couples, setting up the first major legal battle following the Supreme Court's landmark decision last week establishing marriage equality as a constitutionally-protected right.
"Judges and justices of the peace have no mandatory duty to conduct any wedding ceremony," Paxton wrote.
Per the Austin-American Statesman, Paxton told clerks to expect lawsuits, as indeed some have already been filed, but that "numerous lawyers stand ready to assist clerks defending their religious beliefs."
RELATED: Fox's Wallace Challenges AL Justice Moore: 'When the Supreme Court Rules, It Rules'
Paxton's opinion begins the anticipated reframing of the fight from marriage equality to "religious liberty," a move previewed two months ago when Alabama Chief Justice Roy Moore instructed probate judges to deny licenses after his state's ban against gay marriage was struck down by a federal judge. Last month Texas passed a protection allowing religious leaders to refuse to participate in same-sex marriage ceremonies.
"The reach of the court's opinion stops at the door of the First Amendment and our laws protecting religious liberty," Paxton wrote. "Our religious liberties find protection in state and federal constitutions and statutes. While they are indisputably our first freedom, we should not let them be our last."
Critics counter that the Supreme Court's decisions establish the final ruling on the issue, and anticipate lawsuits over the state's denial to rule in their favor.
[h/t Austin-American Statesman]
[Image via screengrab]
——
>> Follow Evan McMurry (@evanmcmurry) on Twitter
Have a tip we should know? tips@mediaite.com