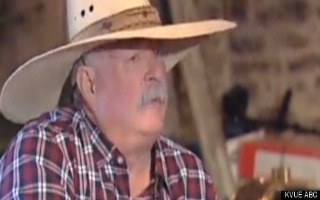 Texas gun store owner Crocket Keller is offering a 10 percent discount for teachers to attend his concealed carry handgun classes after Friday's tragedy in Newtown, Connecticut. Keller was "stunned, but not necessarily shocked" when he heard about the massacre and now believes training teachers in how to use firearms is the answer. So far, no teachers have taken him up on the offer.
The gun shop, called Keller's Riverside Store, is based in Mason, Texas. Keller says his first thoughts on the tragedy were, "Here we go again, another gun-free zone." He asked himself, "What would have happened had there been a teacher with a handgun or a principal with some sort of defense training?"
Although there has been a large public push for increased gun control legislation, Keller thinks the solution is "not to take away our guns." He states, "Personal safety is everyone's responsibility, and if we're armed we can be forces of good in the world even when the police aren't present."
He says his customers have been stocking up on new guns in anticipation of new legislation. He goes on to say that humans will always be violent, but that it's "better for the righteous law-abiding people to be armed and win over the criminals."
Keller is no stranger to controversy. Last year, he aired an ad saying his shop would not be offering classes to the following categories of people: "socialist liberal and/or voted for the current campaigner-in-chief" or "non-Christian Arab or Muslim." He says he meant for the ad to be humorous, but the public didn't find it so.
While he says he is always "happy to have a polite discussion and agree to disagree" about political issues, he does believe the rise of progressive ideals are to blame for increased American violence. "One of the factors to blame for this situation [in Newtown] is the atheist movement," he says. He also laments, "God has been taken out of our culture. The current generation can't distinguish between good and evil."
(h/t HuffPost)
—
>> Follow Anjali Sareen (@AnjaliSareen) On Twitter
Have a tip we should know? tips@mediaite.com