Texas Nurse Who Handled Ebola Samples Now Isolated on Cruise Ship Outside Belize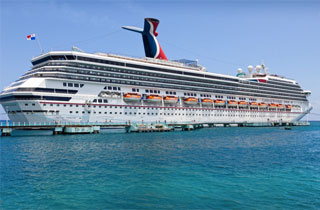 This morning, news outlets learned that the CDC had allowed a Texas health worker who handled lab and fluid samples for Thomas Duncan, the first ebola victim in the U.S., to go on a cruise to Belize, and is currently stranded there after the country refused to let them disembark.
Thankfully — and we have to be clear about this — there's no cause for alarm yet: It's been 19 days since she handled the samples and so far remains asymptomatic (the "all-clear" limit is 21 days without symptoms). But this news comes less than two days after the CDC caused a health scare after clearing Dallas nurse Amber Vinson to fly, even though she reported a slightly elevated temperature and eventually came down with ebola. (Another nurse, Nina Pham, has been transferred to the National Institutes of Health in Bethesda, Md.)
As such, the unnamed passenger has been quarantined, and Belize is refusing to allow passengers on the cruise to disembark on their planned port visit, leaving the Carnival Magic stranded off the coast until the U.S. Coast Guard can safely escort the quarantined passenger off the ship.
"At this time, the guest remains in isolation on board the ship and is not deemed to be a risk to any guests or crew," Carnival said in a statement obtained by NBC News.
The State Department added that the woman did not have"direct contact" with Duncan and "has not had a fever or demonstrated any symptoms of illness."
[NBC News]
[Image via Ruth Peterkin / Shutterstock.com]
— —
>> Follow Tina Nguyen (@Tina_Nguyen) on Twitter
Have a tip we should know? tips@mediaite.com