Thanks, Pope-bama! Jeb Blames Pontiff For Losing Him the Republican Nomination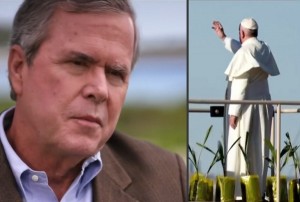 Thanks to people like Ben Carson and his own brother, people often forget that former Florida Governor and Republican presidential nopeful Jeb Bush is also skilled at saying really dumb crap, but on Monday, Jeb! came roaring back to remind everyone that he can be every bit as dumb and deluded. Former Bush press secretary Nicolle Wallace managed to score an exclusive interview with a guy who can't get booked for the grand opening of a Denny's, and the resulting one-hour special produced many such reminders, not the least of which was Jeb's declaration that he would've gotten away with a win in South Carolina if it hadn't been for that meddling Pope.
Jeb was quick to explain that he wasn't blaming the Pope, it's just that the Pope ruined everything:
Bush: The Pope intervening in American politics didn't help.

Wallace: You're Catholic, blaming the Pope.

Bush: No, no. I'm not blaming. Talking about, basically, open borders at a time with the whole Trump phenomenon was to build a wall and make Mexico pay for it. he goes to the border for a massive mass, and he had every right to preach the gospel there, I don't think he should be intervening, I don't think he understood he was intervening in our political affairs. That generated a lot of news and stopped the momentum.

Wallace: By how?

Bush: The news cycle was dominated by that. Trump, to his credit, was very smart at exploiting these kind of opportunities. He's a master at understanding how the media works more than anybody I've ever seen in politics, kudos for him for kind of creating the environment and then manipulating the environment to his effect.
So not only is the Pope the a-hole in this scenario, but Donald Trump is somehow worthy of praise for getting into a feud with the world's most famous religious leader, who just happens to agree with Jeb about the border wall. Makes perfect sense, as does the assertion that Bush was in a "three-way tie" for second place, and if the Pope hadn't been Popin' around, he could have won. Bush lost South Carolina with 7.8% of the vote, to Trump's 32.5%, Marco Rubio's 22.5%, and Ted Cruz's 22.3%. Missed it by that much.
This is an opinion piece. The views expressed in this article are those of just the author.