That Time Donald Trump Got a Free 15-Carat Wedding Ring From an Eventual Murderer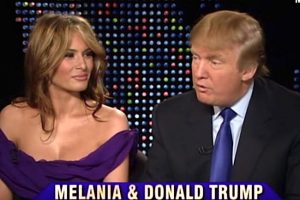 We have told you before that 2016 is such a noteworthy time to be running for President because there is no shortage of books, old articles, and old television interviews to mine for information on Donald Trump and Hillary Clinton. What you're about to read is one of the weirder examples of that: the time Trump got a free wedding ring worth $1.5 million that was made by a guy who went on to murder his wife a few years later.
Call to your mind the news that broke this weekend about Trump and his taxes. In the mid-1990s, he lost $916 million in one year, then very possibly used that loss as an excuse not to pay any federal income taxes for the next 18 years.
Now, fast forward about nine years from the nearly-billion-dollar loss. In 2004, the New York Post reported that Trump traded an appearance on the Apprentice for the $1.5 million wedding band he gave to Melania Knauss the day she became Melania Trump. The jewelry would show up on the show, his wife would show up in the jeweler's ads, and no money would be exchanged. You can't pay taxes  on what you don't buy, can you?
The next day, the Telegraph ran a column about the "tawdry pact," which quotes Trump confirming the story to the Post in an article that's not available online. "Am I such a bad guy for saying: 'I'll take it?'" Trump said.
The author, Jemima Lewis, also gave her unfiltered opinion on Trump, saying he had "a mouth like a plankton-sucking deep-sea creature and the kind of hairdo more often sported by mad old ladies" and "all the character flaws of the typical tycoon: he is vain, insecure, attention-seeking and unconscionably tight." We told you that going through archives was a good way to see how a presidential candidate was perceived back in the day.
Asking if he was a "bad guy" for making a deal seemed enough like he was saying that the Post's story was correct, but by the following month, he was insisting that he had only taken the ring at a half-price discount, according to the New York Times. The Times lamented the whole story like this:
There was a time when the words "wedding" and "commerce" were not inextricably linked, but at least for lovebirds nesting in the upper branches of the socioeconomic tree, that time is apparently over.
The phenomenon of Trump going back and forth to contradict himself on previous, documented statements is something that the voting public has gotten used to during this campaign season, but to see it happen throughout the press in 2004 and 2005, long before he was running for office, is something new entirely.
The story doesn't end happily. The man who made the ring for the jewelers Graff was eventually sentenced to 25 years to life for killing his wife by incinerating her in an oil drum. As if that's not weird enough, columnist Phil Reisman of The Journal News of Westchester County, New York put a creepy exclamation point on the while story when he located an old email from the jeweler's wife Faith Lippe, written before she went missing, but found only after the fact (from the February 28, 2010 Sunday The Journal News):
She had responded to a goofy contest in which I asked readers to submit an essay of 250 words or less explaining why they deserved a $24.98 Donald Trump talking doll for Christmas.
Her e-mail began:

I never enter contests (and therefore have never won anything) and I haven't written an essay in many years….However, this was too big of an opportunity to pass up! Have I piqued your interest yet – or at least prevented you from hitting the 'delete' button? I hope so, because this is a good story….

She then told the story of how her husband, Werner, made a diamond wedding band for the Graff diamonddealers that Trump bought for his fiancee, Melania Krauss. Trump told the New York Post at the time that it was worth $1.2 million and that he got it for nothing in exchange for plugging Graff on his TV show, "The Apprentice."

Lippe claimed the band was sold to Trump for $80,000 and that it had cost $10,000 less than that to make.

She wrote that she wanted to win the Trump doll so she could give it to her husband as a joke.

"He would really get a kick out of it," she said. "He was not fond of the man even before all of this…"

When she told him she had entered the contest, "he laughed for quite awhile."

At the end of the e-mail, she wished me a nice holiday.
Isn't it amazing what a person can learn — about weddings, marriages, politics, and more — when they go looking through old records?
[image via screengrab]
Have a tip we should know? [email protected]