The 3 Most Surprising Takeaways from New Yorker's Hillary vs. The Media Piece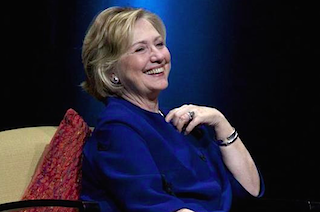 Fresh off his news-making reporting surrounding the firing of New York Times executive editor Jill Abramson, The New Yorker's Ken Auletta is back this week with a sprawling story in the magazine about Hillary Clinton's long and complicated relationship with the right-wing media.
Auletta's piece comes ahead of Clinton's new book, Hard Choices, which comes out next month and is already available for pre-order
. In the article, he speaks to both former (David Brock) and current (Matthew Continetti) members of the conservative media to get a look into how the right has viewed Clinton over the years and what it will mean if she ultimately decides to run for president in 2016.
Below are three most surprising takeaways from the piece:
1. President George W. Bush Thought Hillary Got a 'Raw Deal' from the Media in 2008
Auletta quotes a Pew Research study from 2007 that found during the first three months of the Democratic presidential primaries that year, stories about Hillary Clinton were 37% negative and only 27% positive. By contrast, stories about Barack Obama were 16% and nearly 50% positive.
According to Fox News' Dana Perino, who was serving as President George W. Bush's press secretary at the time, Bush "thought in some ways that [Clinton] was getting a raw deal from the press."
2. Clinton Advisor Phillippe Reines Thinks 'There's No Such Thing as Straight Reporting Anymore'

Phillippe Reines served as senior advisor and press secretary to Hillary Clinton before becoming her Deputy Assistant Secretary of State and would likely play a prominent role in her presidential campaign. In the piece, he confronts the Benghazi story head-on, saying, "You can tell when something is just being pushed by everybody, using the same language. You can see it in the course of Benghazi."
He told Auletta that while he expects that kind of behavior from Fox News, he has "more contempt" for the mainstream outlets that deal in "'gotcha' moments." Reines added, "There's no such thing as straight reporting anymore… I don't think the imperative is ideological as much as it is commercial. It's about views — eyeballs, clicks… The Clintons are good for business. With Hillary more and anyone, there's a premium places in the sensational, the colorful, the inane, and that often comes at the expense of accuracy."
3. NewsMax Founder Thinks Hillary Would 'Make a Good President'
Chris Ruddy, who founded the conservative website NewsMax in 1998, became friends with Bill Clinton starting in 2007. After Ruddy said some nice things about the former president to The New York Times, Clinton invited him to have lunch in his Harlem office, and they continued to meet professionally after that.
While Ruddy's first choice for president in 2016 is Jeb Bush, he is more open than you would expect to a Hillary Clinton candidacy. "I don't perceive her as an ideological person," he told Auletta. "I do think she would make a good president."
[Photo via Steve Dipaola/Reuters]
— —
>> Follow Matt Wilstein (@TheMattWilstein) on Twitter
Have a tip we should know? tips@mediaite.com