The Anti-Defamation League Would Like You To Stop Comparing Gun Control To Hitler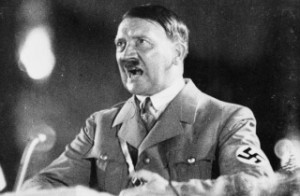 It wouldn't be a proper political debate without Godwin's Law, and the national gun debate has certainly had its share of over-the-top Nazi analogies. The Anti-Defamation League is unhappy about the noticeably frequent invocations of Hitler in the gun debate, and came out with a press release asking that people maybe tone down the rhetoric a smidge.
RELATED: Bob Schieffer Says Obama's Speech 'One Of The Best,' Compares Taking On Gun Lobby To WWII
According to POLITICO, the ADL cited numerous media examples of gun control being likened to Nazi tactics, including statements by a few Fox News personalities, a Drudge Report photo of Hitler and Stalin above a headline about gun control, and one state legislator who reportedly posted a photo of Hitler on Facebook along with a "variety of anti-Obama, pro-gun slogans and images."
Abraham Foxman, the president of the ADL, argued that it is both offensive and inaccurate to suggest gun control is anything akin to Hitler and Nazi Germany.
"We know that the national debate over gun control is one of the most divisive issues in the land, and while Americans are entitled to have strong opinions, there is also language that is inappropriate and offensive in any such discussion. The idea that supporters of gun control are doing something akin to what Hitler's Germany did to strip citizens of guns in the run-up to the Second World War is historically inaccurate and offensive, especially to Holocaust survivors and their families."
—–
Follow Josh Feldman on Twitter: @feldmaniac
Have a tip we should know? tips@mediaite.com
Josh Feldman - Senior Editor