Why Are So Many People Flagging Atheist Mom's CNN iReport Article As 'Inappropriate?'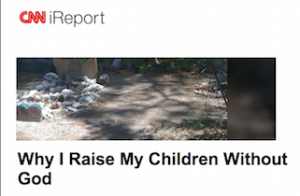 With close to 740,000 views and 10,000 comments, a CNN iReport article titled "Why I Raise My Children Without God" is one of the site's most popular features. But now CNN has been forced to defend the article from users who won't stop flagging it as "inappropriate."
In the story, a blogger identified only as TXBlue08, who also blogs at Kids Without Religion, discusses why she chose to raise her two children without God. In the opening section, she explains:
"I thought it was only right to be honest with my children. I am a non-believer, and for years I've been on the fringe in my community. As a blogger, though, I've found that there are many other parents out there like me. We are creating the next generation of kids, and there is a wave of young agnostics, atheists, free thinkers and humanists rising up through the ranks who will, hopefully, lower our nation's religious fever."
Those sentiments and the list of reasons for her decision that follow, including "God is not logical" and "God does not protect the innocent" have created so much controversy on the site that CNN recently updated it with the following note:
"CNN hasn't flagged this iReport as inappropriate, but some community members have. This is a divisive topic, however it does not violate our Community Guidelines, so we ask people to please stop flagging it. We will continue to review the story as often as possible."
CNN's iReport project is designed for contentious subjects like religion and atheism that stimulate lively discussions. For the many readers who have labeled the article "inappropriate," the idea of a mother actively removing religion from her children's lives was apparently too much to take.
(h/t FishbowlNY)
—
>> Follow Matt Wilstein (@TheMattWilstein) on Twitter
Have a tip we should know? tips@mediaite.com