The Comedians Who Fooled Fox Reporter Today Have Been Pranking Candidates for a While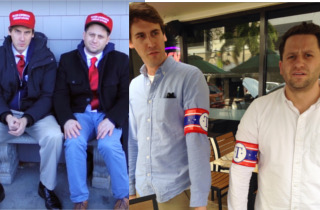 Earlier today we wrote that Fox News was duped by two campaign trail pranksters into reporting that the Trump campaign was handing out eerily fascistic armbands. The two would-be brownshirts were, in fact, the same characters who previously heckled a Rubio rally, demanding that the Florida senator stop stealing people's girlfriends, and photo-bombed a Clinton event by boasting "Settle for Hillary" t-shirts.
The comedic duo, whom Mediaite has identified as Davram Stiefler and Jason Selvig, perform together as the "guerilla comedy" troupe The Good Liars, and have been executing similar stunts along the campaign trail throughout this election cycle.
Their previous exploits include brazenly hijacking a New Hampshire Ted Cruz rally in January. At that event, Stiefler jumped onstage and stole Cruz's thunder by asking the assembled crowd: "What made everyone so weird and sad that they had to come out here?" Stiefler proceeded to roast a bemused Cruz, adding, "It's just weird, you know. What makes everyone so excited about guns?"
"Sir, who are you and what are you doing here?" Cruz demanded before seeing him kicked him offstage. "Are you a little bit confused?"
Selvig jumped onstage shortly afterward, only to be summarily ejected by security. "Oh, we've got another young man who's very confused," Cruz said.
Cruz apparently did not recognize either man when they interrupted another of his events in early February, attempting to perform an exorcism to expel a demonic presence from the candidate.
.@TedCruz to protester who is removed from event: "Usually lefties don't believe in God." #FITN #NHPrimaryhttps://t.co/c8K6m9GQ4l

— CSPAN (@cspan) February 8, 2016
"Ted Cruz, look in the mirror and let the evil spirit leave!" Stiefler screamed. "Leave your power-hungry demonic soul! Leave your wretched body!"
Cruz said that the exorcists were emissaries of "the Bernie Sanders campaign," and quipped that "lefties don't usually believe in God."
The Dallas Morning News interviewed the "protesters," who remained in character as they explained that simply being in the Texas senator's presence was nauseating, while Stiefler pretended to retch continuously.
David Weigel made the connection back then the exorcists appeared to be the same people responsible for the "Donald Trump is Boring" episode from January.
In that sketch, the pair played the roles of two gung-ho Trump supporters who show up to a rally in New Hampshire, and are removed after shouting that the mogul was "boring" and "low-energy," though he did say "a bunch of racist shit we agree with."
Selvig and Stiefler also were responsible for the video sketch, "Two Guys Build a Wall Around Trump," which featured them attempting to erect a (small) wall around Trump Tower in Manhattan.
They've been up to this stuff for a while now. In 2011, the pair "occupied" Occupy Wall Street by assuming the roles of two bankers instigating a counter-protest to "out-occupy the occupiers." In 2012, they duped multiple local news teams into believing they represented a group called "Protect the Polls," which lobbied to legalize shooting anyone suspected of committing voter fraud.
We reached out to Selvig and Stiefler for comment, and will update if we hear back from them.
Have a tip we should know? tips@mediaite.com