The Daily Beast Retracts Howard Kurtz Post About NBA Player Jason Collins Coming Out, Citing ' Several Errors'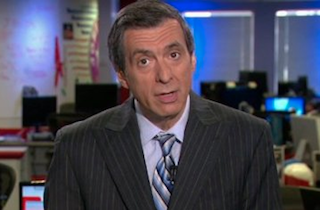 Yesterday, The Daily Beast's Howard Kurtz came under fire after penning a piece about Jason Collins, the NBA player who recently came out as gay. Kurtz was criticized for writing that Collins, in his Sports Illustrated story, "left out" the detail that he was once engaged to woman — a point that wasn't quite true. On Thursday, The Daily Beast retracted the post, citing "errors."
In the original draft of the post, as we summarized yesterday, Kurtz wrote that Collins did not mention his previous engagement. Later, that was edited to note that Collins did mention it, but that he "downplayed" it. In a video posted online — which has since been removed — Kurtz said Collins' leaving out the fact (which he didn't actually leave out) undermined the perception that he was "totally coming clean about his personal life."
In fact, Collins wrote the following in his piece:
When I was younger I dated women. I even got engaged. I thought I had to live a certain way. I thought I needed to marry a woman and raise kids with her. I kept telling myself the sky was red, but I always knew it was blue.
The note about the retraction of Kurtz's post said, "The piece contained several errors, resulting in a misleading characterization of NBA player Collins and the story he co-wrote in Sports Illustrated in which the he came out as gay."
In his original blog post, Kurtz incorrectly stated that Collins "didn't come clean" about the engagement. In an amended version, Kurtz added that Collins "downplayed" the engagement and "didn't dwell on it."

The Daily Beast sincerely regrets Kurtz's error—and any implication that Collins attempted to hide or obscure the engagement.
UPDATE: Well, that didn't take long. The Daily Beast and Kurtz have "parted company," according to editor-in-chief Tina Brown. Her statement reads:
"The Daily Beast and Howard Kurtz have parted company. Under the direction of our newly named political director John Avlon we have added new momentum and authority to our Washington bureau with columnists such as Jon Favreau, Joshua Dubois and Stuart Stevens joining our outstanding DC team of Eleanor Clift, Daniel Klaidman, Michael Tomasky, Eli Lake, David Frum and Michelle Cottle – giving us one of the best politics teams in the business which was instrumental in this week's Webby win for Best News site."
Have a tip we should know? tips@mediaite.com