The Democratic Delusion: 'Voter Suppression' Resulted in Recall of Pro-Gun Control Politicians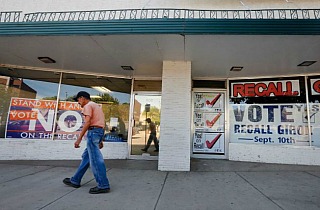 On Tuesday night, voters in two Colorado districts ousted two prominent state senators due to their support for strict state-level gun control measures. Colorado, which has been trending Democratic over the past four election cycles, has been uniquely resistant to the Republican message. For a moment, that trend in the Centennial State was halted as voters ejected state Sen. Angela Giron and state Senate President John Morse from elected office.

Pundits and political scientists often warn observers that special or recall elections are not indicative of any political trend. They are not predictive of the results of a general election or portents of a great wave favoring one party or the other. They are best analyzed based on the isolated factors that motivated the voters who turned out – in this case, gun control laws – and the universal mechanics that get candidates elected to office.
While these two races were proxy battles between the National Rifle Association and New York City Mayor Mike Bloomberg's anti-gun organization Mayors Against Illegal Guns, the outcomes of these races are unlikely to be especially instructive for analysts who are attempting to determine how the debate on guns will evolve ahead of the 2014 midterms.
However, what is instructive about the national mood is the reaction that these recalls inspire among national political figures and pundits. The most obnoxious and delusional reaction, presuming it is even genuine, has thus far been expressed by Democratic National Committee Chairwoman Debbie Wasserman Schultz (D-FL).
RELATED: Two Democratic State Senators Lose Seats in Colorado Gun Control Recall
"The recall elections in Colorado were defined by the vast array of obstacles that special interests threw in the way of voters for the purpose of reversing the will of the legislature and the people," Wasserman Schultz insisted in a statement. "This was voter suppression, pure and simple."
Colorado has a Democratic governor and a Democratic legislature. Even after the defeat of two high profile state senators, Wasserman Schultz's party still retains a narrow majority in the upper chamber of the state legislature. While Colorado has a voter identification law, its election laws are routinely criticized as "lax" and permissive.
But it's a mistake to view Wasserman Schultz's as a substantive critique of the circumstances which led her party to failure in Colorado. It is an appeal to a dogma. Wasserman Schultz's ludicrous claim is a transparent effort to deflect the blame for why the voters in blue districts in a blue state rejected their Democratic representatives.
Indeed, to engage in serious introspection about what happened in Colorado is to rethink the party's commitment to gun control legislation – a cause which inspires religious devotion among the faithful. Religious is, in fact, the only way to describe the Democratic base's commitment to new gun laws as a cure-all for gun violence, given the paucity of evidence to support this claim.
Even on the national level, the push for gun control has cost Democrats. The precious early months of President Barack Obama's second term were spent focused on the utterly fruitless effort to seek new national gun laws. To carefully examine the prudence of the Democratic Party's push for gun control is to recognize and admit failure. They are not there yet. It will take a national electoral rebuke of some scale to impose that kind of introspection on the party's elite.
In the meantime, Democrats will content themselves with fantasies of absolution. They will tell themselves that external factors and shadowy figures of ill-defined origin are aligned against them, thwarting the will of the majority of honest Americans. These unfalsifiable claims will soothe the uneasy consciences of base Democratic voters, but they will not solve the underlying problems the party is confronting.
Are the Colorado recall results indicative of a larger trend? None can say, but caution demands that political observers presume they are not. The reaction from Wasserman Schultz and others is far more compelling evidence of a trend. In the same way that base Democratic voters assure themselves that Obama has never been stronger than when he has abandoned his domestic allies after an aborted push for intervention in Syria and elevated Moscow to an undeserved position of global authority, the congresswoman's laughable attempt to exonerate her party will find an appreciative audience. This should seriously trouble sober-minded Democrats.
While political commentators inside the Beltway and on MSNBC inflate their own egos with endless dissections of the GOP's problems appealing to a majority of American voters, the disease of self-delusion, incubated in the echo chamber, metastasizes.
[Photo via AP]
— —
> >Follow Noah Rothman (@NoahCRothman) on Twitter
— —
Editor's note: This post has been republished from an earlier date – Jon Nicosia
Have a tip we should know? tips@mediaite.com