The Donald Reportedly Wanted Playboy to Do a 'Women of Trump' Spread in the 1990s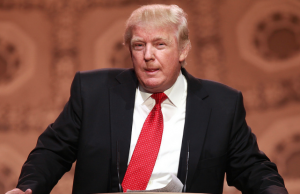 One very interesting thing about this year's elections is that both candidates have been public figures for decades and have been famous enough outside of Washington, D.C. that we have plenty of archived reports and footage to sift through now.
The staff of Jezebel did just that recently by rereading Trump, The Greatest Show on Earth: The Deals, The Downfall, The Reinvention, a 1991 book by journalist Wayne Barrett. Here's the passage they found:
He even tried to get Playboy to do a spread called "The Girls of Trump," wooing his most shapely staffers, including a former beauty queen secretary, into posing for the magazine with a sliding scale of offers on everything from full nude to breast to "wet-lip" shots. It was all part of the rakish ethos of phony glamour that he consciously fostered, even to the extent of concealing from public view a very efficient secretary with a pimplish facial condition. This unappeasable appetite led him, as his own notoriety soared, into celebrity worship, and he became a starstruck groupie, attaching himself to Don Johnson, Michael Jackson, and just about anyone else who would allow him to climb into photographs with them. He was both projecting a larger-than-life image and reveling in it, a dangerous psychic combination.
Per Google Books, it checks out.
Jezebel reached out to current campaign staff and former Playboy staff and found no evidence that the story was true, but in 1991, Barrett would have had no political motivation for making such a thing up, so keep that in mind. Trump's relationship with the magazine — especially in that era — has been well documented.
The anecdote reads especially interestingly in the wake of Trump saying that if his daughter were sexually harassed at work, he would hope she would just find a new job. It also reads interestingly because this week, not only did his wife's old naked photos leak, but he signed a pledge that included a provision that he would "give serious consideration to appointing a Presidential Commission to examine the harmful public health impact of internet pornography on youth, families and the American culture[.]"
[image via screengrab]
Have a tip we should know? tips@mediaite.com